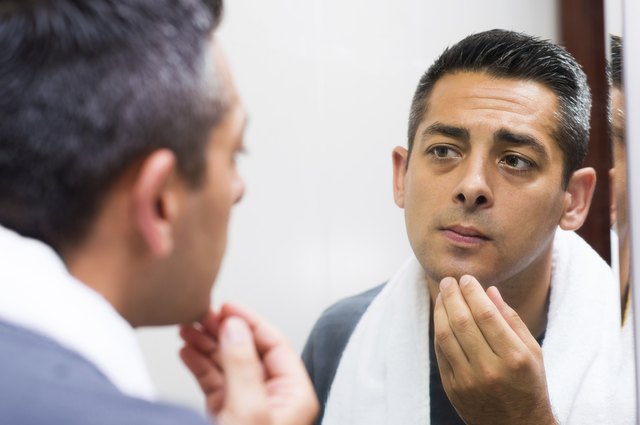 DragonImages/iStock/Getty Images
We all have our own unique face shape, but traditional guidelines help figure out which shape you most closely resemble. From round to oblong and square, some faces are easier to define than others. Guidelines for finding your face shape differ slightly for men and women because of natural variances in bone structure between the genders. However, everyone generally associates with a round, oval, oblong, heart, diamond, or square face shape. Knowing which category you fall under helps in choosing everything from haircuts, to eyeglass frames and necklines.
Men's vs. Women's Shapes
Women tend to have softer bone structures than men, especially in the jawline and brow. Of course, men can have softer features and some women have a strong jaw, but for the most part, these features are what differentiate men's and women's face shapes. For example, oblong face shapes are common in both men and women; however, women tend to have a more rounded chin, while men's are more square. These angular lines can lead guys to believe they have a square face shape, when in fact they are oblong. Men and women must take the hairline, cheekbones and jaw into consideration to find their face shape.
Men's Faces
Men can have square, round, oval and diamond face shapes, just like women. The major differences arise with pear and rectangular faces. Men's faces tend to be larger in general and more elongated than the ladies, causing a slightly different shape. Pear shapes are characterized by a wide forehead and tapered cheekbones with a narrow jawline. This look is often referred to as heart shaped for women. Since guys often have a more squared jaw, the oblong face on a woman appears more like a rectangular shape on a man. Square face shapes may be more common on men, but are just as easy to define on a woman.
Feminine Features
Ladies face shapes are most commonly characterized by their cheekbones. This defining feature is the cornerstone of heart-, diamond- and square-shaped faces. If you have a very strong jawline and less pointed chin, chances are you have a square-shaped face. Extremely pointed and narrow chins are often associated with heart, diamond and oblong face shapes. Full cheeks are a tell-tale sign of a round face shape, but with high cheekbones and a pointed chin you may have a heart shaped face. Oval and oblong faces are the most similar, while oblongs tend to have a higher forehead and more angular jawline.
Finding Your Shape
With hair slicked back, stand in a well-lit room in front of the mirror. Take a dry erase marker or bar of soap, and draw around the outline of your face onto the mirror, from hairline to jawline while moving as little as possible. This method is the quickest and easiest way to start determining your face shape. You could always use a soft measuring tape to record the length of your face and width across your forehead, cheekbones, and jaw, as well. The widest part of your face is a big clue to your face shape. If it's your jaw, you're likely a square; if it's all about even, an oval.
Working It
Now that you can see the outline of your face in the mirror, follow the guidelines above to see which shape you most closely resemble. Once you know the shape of your face, you can more accurately choose the best haircut, eyeglasses and necklines to create a flattering look. Haircuts with bangs bring balance to oblong faces with long foreheads, and less severe cuts complement strong square jawlines. Rectangular eyeglass or sunglass frames create more structure on round faces. Ladies can opt for a V-neckline to elongated a heart- or round-shaped face, and guys get the effect from a single-button blazer.