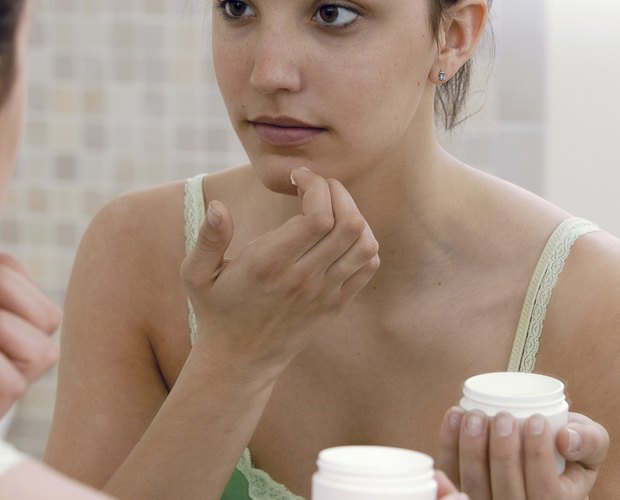 Comstock/Comstock/Getty Images
Covering a blemish means using concealer to block out color and to lessen the look of any swelling. A blemish with a crusty top is harder to conceal without a cakey look because texture prevents makeup from going on smoothly, and a caked finish sometimes even highlights a blemish instead of making it less noticeable. Preparing your skin, as well as using the right technique with a suitable concealer, remedies this.
Preparation
Cleanse the skin to remove excess oil, which stops makeup from adhering.
Remove flaky skin from the blemish, taking care not to irritate it. The best way is by gently rolling a cotton-tip swab dipped in liquid exfoliator, then sweeping off dead skin. Liquid exfoliators contain alpha hydroxy acids (AHAs) rather than grains and are available from spa brands, such as Aveda.
Moisturize skin, to make it as smooth as possible, with a dab of oil-free hydrating fluid or lightweight gel-cream.
Smooth a dab of oil-free makeup primer over your entire face. This also helps to give makeup a smooth, natural finish.
Application
Apply an even coat of your chosen foundation. You can just use concealer on bare skin, but a foundation helps you to build up fine layers of coverage, which is the best way to avoid a cakey look.
Smooth concealer over the blemish. Using a brush gives you the control to apply a thin, smooth layer of cover.
Wipe the brush clean on a tissue and use it to carefully blend the concealer edges around the blemish. Leave the concealer covering the tip of the blemish untouched.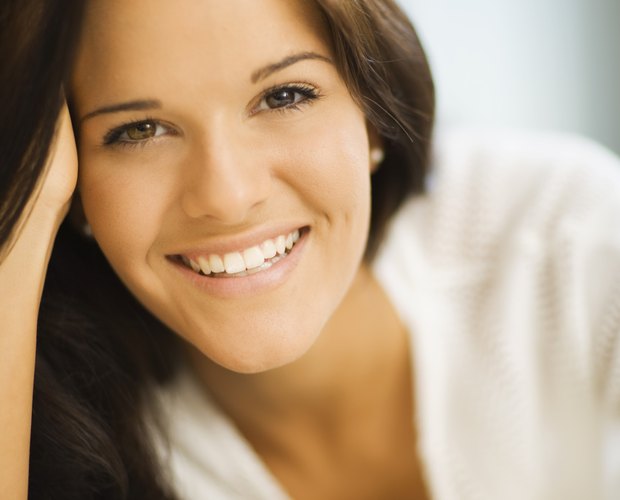 Jupiterimages/Brand X Pictures/Getty Images
Press a velour puff loaded with translucent loose powder over makeup. If you are concerned about wiping the concealer off the blemish during this process, apply powder over this area only using a soft eyeshadow brush. Setting the base with powder stops cream makeup from shifting around on your skin, shining and becoming cakey.
Tip
Use a concealer that perfectly matches your skin color. A product that is too dark or orange draws attention to the blemish.
Work concealer into the brush well before applying and then paint it on in one or two thin layers. Daubing product on straight from the pot, instead of warming it into the brush, is more likely to produce a cakey result. Use the back of your hand or the lid of the product to blend it into the fibers of the brush.
Matte, dry-textured cream concealers, as used by makeup artists, are the least likely to cake. Though they look thick, these contain a lot of pigment and so you need only a small amount of warmed product for high coverage.
Warning
Do not use light-reflective under-eye concealers or ones designed to lessen the appearance of wrinkles. The shimmery base in these will only highlight the blemish and catch on any rough skin, making it look caked and textured.
Never scrub a blemish or use a harsh exfoliator in an attempt to get it smooth. This can rupture acne, cause infections and spread spots. Unfortunately, if the blemish has a rough scab, you will not get concealer perfectly smooth, but proper application will minimize it greatly so that others will barely notice it.