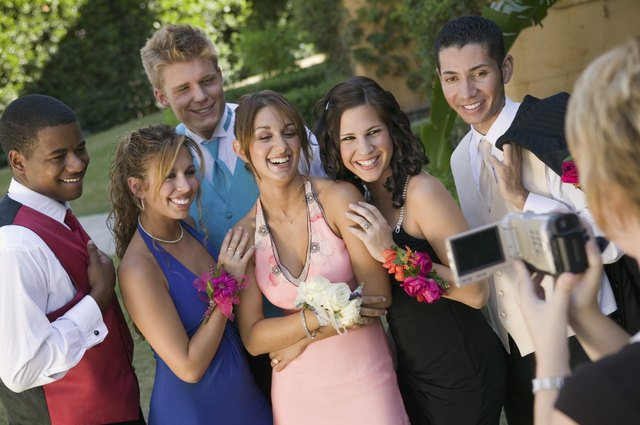 Mike Watson Images/moodboard/Getty Images
When you want to wear a strappy dress to prom, the last thing you need to worry about is seeing spots from chest acne. Those bumps and red marks can detract from the look you want for your big night. . With some concealer, a little powder and some confidence, your acne won't be the most memorable part about your prom night.
Shower and dry the area well. Soak a cotton swab in some hydrogen peroxide, and use it to carefully clean the area on your chest that has acne. Dress before you try concealing your chest acne, so you don't get concealer on your dress. When you slide your dress on, you might rub off all the concealer. Dress carefully, and then use a few pieces of tissue tucked in the top of the dress to protect it from makeup.
Pump a small amount of a salicylic acid concealer into your hand. Using a light hand, dab the concealer over all the spots. Try a concealer a shade darker than your natural skin tone so the redness is covered evenly. Tap a smooth, even layer over each blemish.
Dip a large, fluffy blush brush into a pot of translucent powder. Instead of sweeping over the area like you would with blush on your face, use the brush to softly stipple powder over the concealer on the blemishes. This will help create a more natural texture and blend the edges of the concealer into the rest of your skin.
Dust a little loose body glitter over the powder to give chest acne a little more coverage and camouflage. A silver body glitter also looks festive for prom night, and no one will ever know you're using it as a cover up. Don't use liquid or gel glitter, as it will cause the concealer to rub off.
Remove the tissue from the top of your dress before heading off to prom with your date. Slip the body glitter and translucent powder into your purse in case you need to touch up your makeup.
Tip
Applying peroxide to your skin will disinfect it so you don't make the problem worse by infecting the acne, which might result in acne scarring.