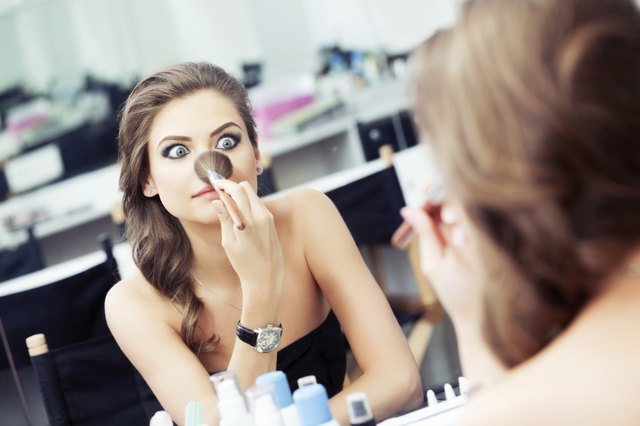 Mikhail Laptev/iStock/Getty Images
Loose powder gives a more "done-up" look -- perfect for job interviews or after-work cocktails with the girls -- but it's messy and not travel-friendly. Pressed powder is perfect for on-the-go lifestyles and traveling, and with the right makeup brush, both powders can give you similar looks regardless of your skin type or complexion.
The Pros of Pressed Powder
Pressed powder is mess-free and travel-friendly; it won't leak or ruin your purse. In addition, pigmented pressed powders offer coverage, giving skin an even, matte look. Pressed powder can give you the same done-up look as loose powder when it's applied correctly using the right makeup tool. Use a mini kabuki brush to create an even, fresh-looking finish. If you're covering up a blemish, apply powder first, then concealer, to avoid a cakey look.
The Cons of Pressed Powder
Pressed powder can often appear cakey and dried out. The main reason for this is most pressed powder compacts come with a puff or sponge. Problem is, puffs don't allow you to evenly apply the powder and they also run the risk of collecting bacteria. Your best bet is to opt for a powder brush.
The Pros of Loose Powder
Loose powder is queen of the red carpet. Due to its milled texture, loose powder is buildable, and it generally gives skin an even, more natural look compared to pressed powder. It offers various levels of coverage and is the go-to powder for big events. Whether creating a glam or everyday look, apply loose powder with a kabuki powder brush.
The Cons of Loose Powder
Loose powder does not travel well. The milled particles are messy and they have a tendency to get everywhere. As celebrity makeup artist Taylor Babaian says in her YouTube video "Loose Powder vs. Pressed Powder," "Loose powder stays at home; pressed powder goes with you."