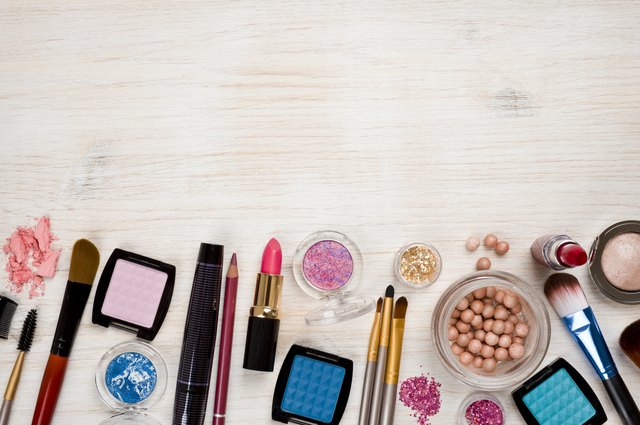 Skin changes constantly, which means your beauty arsenal should also transform every few years. Skin cells tend to lose hydration during the 40s, along with the slowing of collagen and elastin production. Boosting moisture and keeping foundations light and luminous helps skin look refreshed and natural. Rosy cheeks and full lashes also accentuate your natural features, brighten your complexion and open the eyes.
Since skin tends to lose hydration over the years a few basic preparation tips can keep it hydrated and glowing.
Apply a dime-size dollop of lightweight SPF moisturizer to prevent sun damage and plump up skin.

Follow up with a primer suited to your skin's needs. Some primers target redness, while others soften fine lines or benefit dry skin. In general, they help foundation glide onto the skin smoothly and last longer.
While you don't want to pile on a heavy, cakey layer of foundation, the right formula can add dimension and luminosity back to your skin.
Invest in a hydrating, liquid foundation with light to medium coverage. Test the foundation in the store to ensure it matches your skin tone.
Apply it with a bristle brush designed for foundation, focusing on areas you want more coverage, such as the forehead, nose, chin or cheeks.
Keep the application light using small brush strokes to gently blend the foundation into your skin.
If you have a small spot or area of redness that needs a little more coverage, invest in a creamy, moisturizing concealer that works as an emollient. Avoid matte or powder concealers, which tend to cake on top.
Apply the concealer with a small concealer brush and keep the application as light and focused on the area as possible.
Tips
To keep that luminous glow, skip setting powder completely, especially if you have dry skin. If you have oily or combination skin, apply a light layer of a translucent, fine-grain mineral powder with a large fluffy brush to any problem areas.
Applying the right blush is one of the quickest beauty shortcuts to a glowing complexion.
Opt for a cream or gel blush in a bright coral or pink. These formulas add moisture to the skin and a dash of warmth that mimics a natural blush from within.
Apply a tiny dab of blush with your fingertips and gently blend until it sits evenly on the apples of your cheeks.
Tips
Give your face structure and open the eye area by filling in any sparse patches in your eyebrows with an eyebrow pencil. Opt for a shade slightly lighter than your hair if you have dark strands. If you are have lighter hair, use a taupe or light brown brow powder instead.
No makeup routine is complete without an open, bright eye sporting tons of dimension.
Sweep a neutral beige or warm champagne eyeshadow over your eyelid. Stick to matte shadows with a bit of a creamy texture or a very low-level shimmer.

Blend a medium brown, gray or plum into the eye crease using a small blending brush. Focus most of your attention on the outer corner of the eye using windshield wiper motions.
Plump up your lash line by smudging a dark brown cream eye pencil into the base of your lashes. Keep the line thin to subtly build up your lashes.
Curl your lashes with an eyelash curler to open the eyes and give your lashes definition.
Finish with a brown or black mascara on the top lashes, focusing a little extra attention on the outer corner of the eye.
As lips age they lose some of their bright color, shape and moisture. Bring it back with this simple routine.
Invest in warming lip shades a few tones darker than your natural lip color to create an inviting, effortless look. Berries, pinks and peaches all create warmth.

Apply a creamy lip liner in your chosen shade to reduce feathering throughout the day.
Fill in your lined lips with a semi-matte lipstick in the same shade.
If desired, smooth your lips with a light layer of sheer gloss, focusing on the center of your pout.