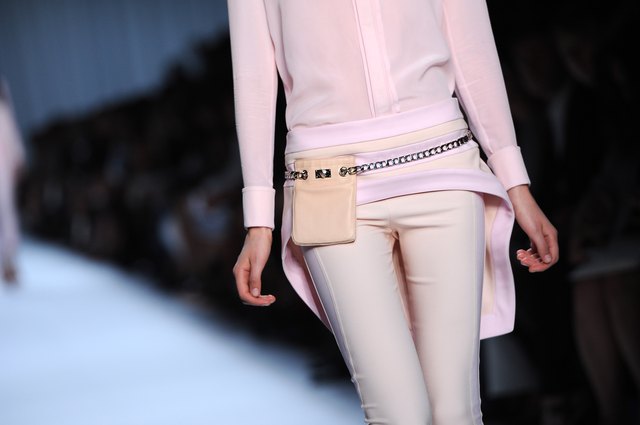 Pascal Le Segretain/Getty Images Entertainment/Getty Images
Fanny packs walked onto the tourism and fashion scene in the 1980s. Since then, everyone from joggers to parents juggling kids have been seen sporting this waistline pack. It's been touted as a perfect cargo-carrying sack to hold keys, a cell phone and anything else that might otherwise occupy your hands as you're running around town or nature walking. There are a wide range of fanny packs on the market today -- everything from utilitarian bags to the ultra sleek and fashionable can still be found decades later on the waists of men and women alike.
History of a Hot Accessory
Fanny packs date back to the French in the 15th century when they wore a small bag that hung from a belt called a chatelaine. It wasn't until the 1980s that Americans got hooked on these sturdy strap-ons, although just as many people poked fun at fanny packs as wore them. Even pop culture got in on the joke in the 1990s' "Seinfeld" episode where Jerry tells George, "It looks like your belt is digesting a small animal." Like anything in fashion, there were haters and lovers -- it all depends on your personal style and needs at the time.
How It Got Its Name
The term "fanny pack" was coined because the bag was originally worn around the waist in the back above the rear. Today, these practical bags are worn slung to the side on a hip or clipped at the back or near the bag, and then worn directly in the middle of the waist. They're also known in the United States as a belly bag, buffalo pouch, belt pack and, most fashionably, as a "belted satchel" by clothing designer Diane Von Furstenberg.Whatever you choose to call it, the fanny pack looks best when worn as close to the hip as possible.
Fabrics, Materials and Patterns, Oh, My!
While the original fanny pack manufacturer is not known, all kinds of brands have jumped on the bandwagon. Everyone from LeSportsac to Louis Vuitton now has a version in a multitude of patterns and fabrics -- think plaid, smiley faces, leather, sequined, nylon, satin and animal skin. Some celebrities, such as singer Rihanna, use this hands-free pouch as a stylish personality extension. She's been spotted sporting a pack featuring gold dollar signs on a shiny black, faux-leather bag by Joyrich.
Fanny Pack Future
Fanny packs never really went away, although they are not as popular as in the 1980s and early 1990s. Today, they are sometimes used as a marketing tool for companies who choose to blazon a logo on the front and give them out at events or as freebies to customers. In addition, designers ranging from Louis Vuitton to Prada have added a newer, sleeker version to their accessories line, and celebrities ranging from Madonna to Matthew McConaughey have been seen rocking a pack around town.