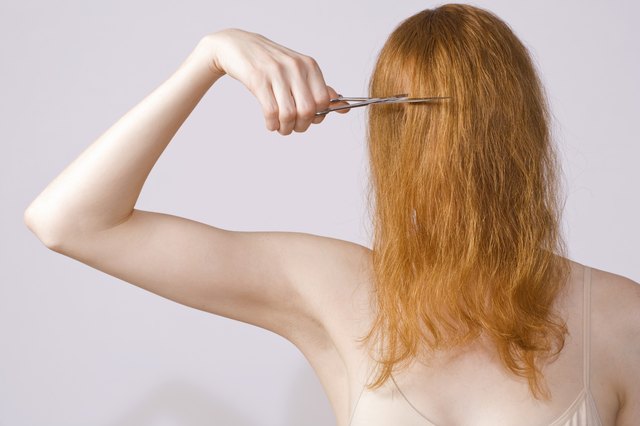 Jupiterimages/Pixland/Getty Images
While it is the norm for women over 40 to have short hair, there are still many stylish ways that you can have your hair long. An important issue to consider when having long hair is the time it takes to style it. Make sure it will fit into your schedule.
Wavy or Curly
Wavy or slightly curly, long hair gives a natural appearance. It looks like you just came from the beach. This is a fresh, clean, young style that looks good on women over 40. Bernadette Peters is a good example of someone over 40 who has beautiful, long curly hair and lets it go freely. Sarah Jessica Parker, as Carrie Bradshaw in "Sex In The City," has effortless long, wavy hair. This natural look works for many women who are 40 years old or over; however, make sure it does not look messy. There is a fine line between naturally wavy hair and messy wavy hair.
Perm
If you want to have long wavy, curly or straight hair, then consider getting a permanent (perm). While permed hair is less prevalent than it was in the 1980's, people still get their hair permed. This works for curly and wavy hair. If you want straight hair, you need to go through a process called chemical straightening. Keep in mind that once you undergo these processes, they may wear off over time, but once completed, there is no undoing them or going back.
Bangs
If you like the hairstyle and length of your hair but feel that you need a small change, incorporate bangs into your hairstyle. Adding bangs to a long hairstyle keeps it looking young, fresh and sometimes edgy. Whatever kind of long hair you have, you can add side swept bangs for a subtle difference or bangs straight across the forehead for an edgy look.
Color
Choosing color is tricky for long hair on women over 40. Always consult with your hairstylist because your hair may be too dry or brittle for some procedures. Long blonde hair is a young looking style of hair so you should opt for a darker color. It does not have to be dark brunette, but a light brown at least. If you have a lot of gray hairs, however, these may be more difficult to dye dark colors. Also, you do not want to choose a color that will make you hair look thin.
Extensions
Women over 40 may be experiencing hair thinning or graying so extensions are one way to remedy this. Have extensions weaved into your hair for thicker, longer hair. As you get older your hair may not grow like it once did so extensions are a good option to get it back to the volume you want. The extensions can help you get the cut you want as well. For example, if you want layered hair, and your hair is long enough but too thin, having extensions enables you have this hairstyle.