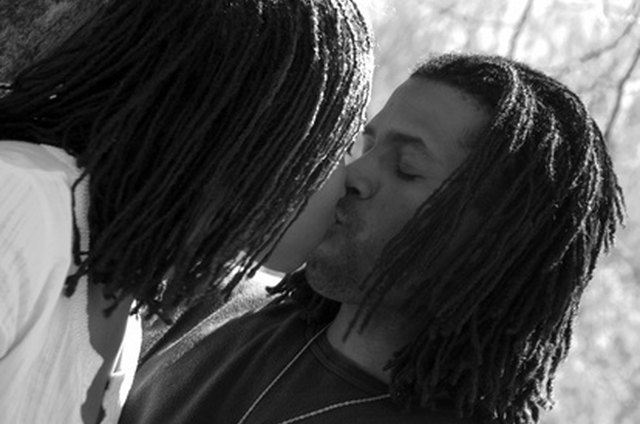 portrait of a couple in love image by studio vision1 from Fotolia.com
Dreadlocks are a hairstyle that consists of long locks of hair coiled together via various methods: using beeswax, special dread wax or just neglect. Dreadlocks come in varying amounts of thick or thinness and length. Short dreadlocks are just as striking as long ones that reach down the back and still allow you to create a variety of styles.
Away from the Face
When left completely natural, short dreadlocks frame the face. But sometimes you might want to showcase your bone structure or participate in an athletic activity that involves pulling your hair back from your face. The simplest way to do that is to pull back the dreads that rest around the part of your hairline that border your forehead and pin them back. Secure them with a bobby pin or a clip. Alternatively, wrap a cloth headband or ribbon around your head and it will pull your dreads back, and away from your face.
Half-Up
Short dreadlocks are often too short to pull up into a full ponytail or a complicated up-do. However, if you have a special or formal occasion, you can still simulate a hairstyle that resembles a more serious up-do. Simply gather the dreads that rest above your ears up with the dreads that rest along the hairline above your forehead. Either gather them all up into a small ponytail at the top of your head or twist them into a tiny bun, securing them with a piece of ribbon.
Low Twists
Low twists are suitable for short dreadlocks that are longer than chin length but shorter than shoulder length. This hairstyle is suitable for formal occasions or upscale work environments. It also gives dreadlocks an almost traditional appearance. Gather the dreadlocks on one side of your head and twist them inwards moving downwards around the outline of your head, down to the nape of your neck. Insert pins along the twist to keep it in place. Repeat with the other side. If your short dreads are long enough, clip them together once you have completed both twists.