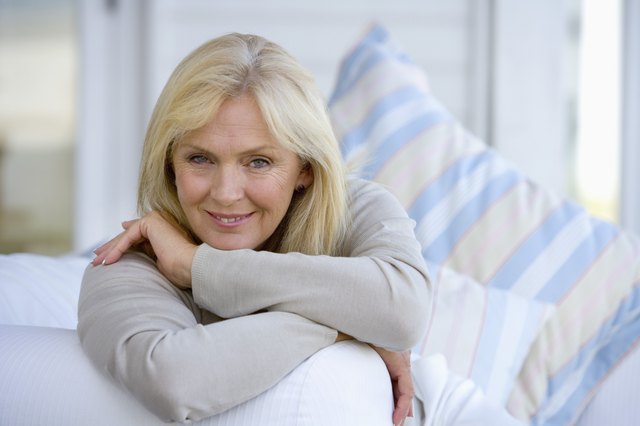 Goodshoot/Goodshoot/Getty Images
There are plenty of different ways to wear long hair. For older women, keeping your hair youthful (without trying to look too young) will make you look and feel younger. The first thing to remember even before styling your hair is to moisturize it. The older we get, the more brittle and wiry our hair gets. Using a good moisturizing shampoo and conditioner will help keep your hair soft and smooth for whatever hairstyle you like.
The Youthful Bun
Dampen your hair using a spray bottle filled with water. Use a comb to spread the water throughout your hair. Part your hair on the side that it is normally parted on. Comb your hair down over your ears, like you are going to put your hair into a low ponytail. Hold your hair with your non-dominant hand. With your other hand, begin twisting your hair. Holding the middle of the "bun," wrap the hair around itself to form a bun. Wrap a hair tie over and around the bun to secure it. Place a bobby pin at the top, bottom and sides of the bun to ensure that the bun stays in place all day. Add a little hairspray for extra hold. This hairstyle is chic and sophisticated without looking matronly.
Pulling Your Hair Half-up
Style your hair straight or curly, whichever you prefer. Use a rat tail comb to gently rat the hair at the top, back of your head. Do this by lifting a small section of hair at the crown of the head, then comb through the section. Do this with the section of hair just below the section ratted. Smooth the hair down with the comb, only slightly as to not flatten the hair. Use the end of the rat tail to divide your hair in half (just above the ears). Pull these two sections of hair to middle, back of your head. Use a small hair tie in the color of your hair to secure.
Adding Volume to Your 'Do
Wash your hair with a moisturizing shampoo and conditioner. Blow your hair dry at the roots to prevent any fly-a-ways. Section your hair off into several sections. Use a large, round hair brush to roll through each section as you dry it. Do this until all of the hair is completely dry. Place hot rollers throughout your entire head. Keep the rollers in for 5 minutes; leaving them in longer will result in tighter curls. Take the rollers out, and add a little bit of hairspray to hold the hair.Tousle your hair with your fingers.