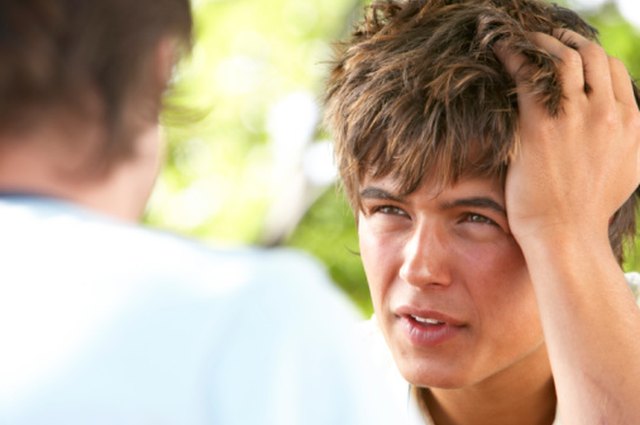 BananaStock/BananaStock/Getty Images
The right style for a teen boy with an oval face suits his personality and lifestyle. Some hairstylists believe that an oval face is the most versatile shape. While there are a few rules for styles, the shape looks good for many lengths and shapes of hair. It is important to avoid spikes on top of the head or excessive volume on the sides of the head.
Short Styles
For the teen boy with an oval face who likes it short, there are several options available. The typical hipster look fits the requirements for the facial shape and requires little maintenance. For this look, the sides are cut short and combed straight down. The top is left longer and is combed forward toward the face. This easy-to-care-for style fits boys 13 and up. Additionally, a short Emo cut, with long sideburns, short sides and long side-sweeping bangs is easy to do each morning and suits the oval face shape. For the teen who loves surfing, skating or other outdoor activities, a Ryan Sheckler style of forward sweeping short layers may be preferred.
Medium Cuts
For the teen boy with an oval shape who likes their hair a little longer, a surfer/skater boy look may be just the right style. All one-length hair is cut to the shoulders or just below the ears. The style requires only a slightly to the side part and a toss with the fingers in the morning. For the oval-faced rocker boy, longer layers all over the head accompanied by bangs may be the look they desire. A little gel on top for a bit of volume and a quick comb down gets the style going quickly in the morning.
Long Cuts
An oval face well tolerates long, straight hair. For a teen boy, this may include growing hair into a one-length style to or past the shoulders. This selection allows the teen to pull hair back into a ponytail, braid or leave flowing down the back. It is basically a wash and go cut. For a more stylish look, very long layers with sweeping bangs will fit an oval face. The teen may wish to comb the long layers forward for a rocker or Emo look.
Alternative Styles
A teen boy with an oval face may find an alternative hairstyle desirable. The oval shape is conducive to wearing the hair away from the face. This opens the door for cornrow braids of any length. Dreads, twisted and waxed locks of hair, are also an option for the teen who admires the Caribbean or Reggae lifestyle.