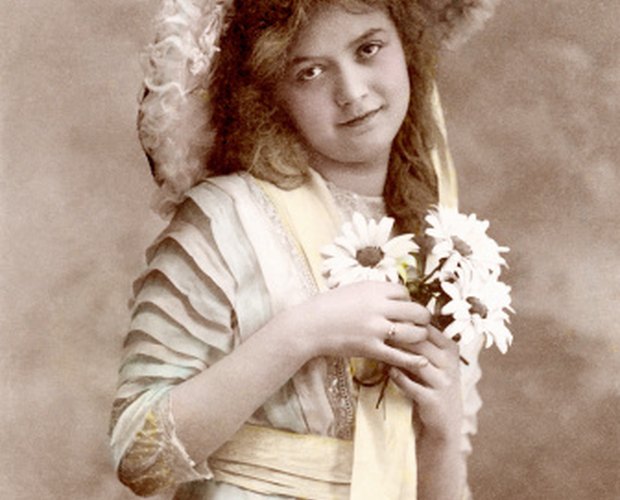 Brand X Pictures/Brand X Pictures/Getty Images
If girls living in the early 1900s could fast forward their lives to 2011, they would be totally shocked by fashions and styles. Pants were practically unheard of for girls, and dresses reached the knee. As the girls got older, the lengths of dresses got longer. Clothes were designed for total modesty, with high collars, long sleeves and long skirt lengths. Though fabrics came in a variety of colors, white cotton was popular for girls of all ages.
School Clothing
Sailor and middy-style blouses were popular for school attire among young girls during the early 1900s. Shirtwaist dresses were also worn by teenage girls. A popular school outfit was the Russian Tunic with pleated skirts. Outerwear consisted of thigh length, double-breasted jackets with buttons or single breasted single hook closures. Ruffles adorned collars and cuffs of long-sleeved blouses. Dresses cinched in at the waistline or dropped slightly below. A blue, cotton chambray skirt with a white blouse was another school uniform for girls.
Dress Clothing
Girls wore suits with long jackets and skirts with side pleats, often made of surge or percale, in basic black, navy and white. To dress up this plain outfit, sheer blouses with accordion pleats were added for party time. Teenage girls loved dressing up in long dresses of bold prints when going out in the evening. Party time blouses and dresses were often adorned with hand embroidery. To dress up plain color dresses, pre-teen girls added bright color sashes that fell at the waist or slightly below.
Undergarments
Undergarments were a major part of young girl's outfits and included undershirts, bloomer pants and slips. Knee-high socks in cotton, silk or wool, held up by garters, were worn with all outfits. Some of the cotton drawers worn by young girls were split down the middle, for ease of using outhouses. Lacy, cotton chemises went over undershirts and snapped at the shoulders. Girls wore petticoats, generally white, cotton batiste trimmed in lace.
Accessories
Earrings during the early 1900s were made expressly for pierced ears; they were simple in design and appropriate for young girls. Girls of all ages wore gloves; warm, wool ones were worn during the winter and cotton or thin leather was worn during the warmer months. Hats with wide brims made a fashion statement for all seasons. They were often composed of straw; sporting a suntan was not fashionable. Beret style hats gained popularity with teenage girls during the early 1900s. Very young girls wore knitted and cotton bonnets. Girls dressed up their hair with ribbons, flowers and bows.
Shoes
Young girls wore ballet style shoes made of satin and leather two-strap sandals. Canvas lace-up shoes with ties of large filmy bows were popular with pre-teen girls. Teenage girls wore shoes with moderately high heels, that they slipped into, buttoned or laced. They reached the ankle or just below. Shoes were never worn without socks.