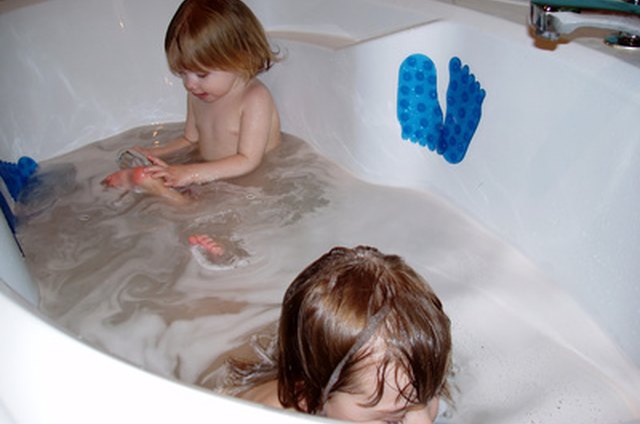 Bath bombs, sometimes called bath fizzies, are made by combining the right amount of chemicals to create a reaction when added to a warm bath. The bath bombs will fizz and swirl around the bath until melted into the water. Different fragrances, colors and oils create an entertaining experience for kids who enjoy watching the excitement created by the bombs hitting the water. They not only have a bit of fun, but their skin also benefits from the conditioning effects of the ingredients.
Pour the witch hazel extract into the sprayer bottle and set aside.
Measure 2 cups of baking soda into the bowl. Add 1 cup of citric acid and mix gently.
Add 1 tbsp. of almond oil, 5 drops of essential or fragrance oil and 2 drops of food coloring to the dry ingredients. Mix the ingredients gently.
Spray the witch hazel over the mixture while continuing to mix it until it clumps when pressed together. Do not overdo the witch hazel or the ingredients will be prematurely activated and ruin the bomb.
Press the mixture into the molds and let set for 5 to 10 minutes. If you cannot find bath bomb molds, use a plastic ice cream scoop or place the mixture into paper-lined muffin pans.
Remove the bombs from the molds and place them on wax paper to dry for 48 hours.
Store the bombs in an air-tight container until used.
Tip
Make bombs in multiple colors and scents. Tie them up in cellophane bags with bows to make pretty gifts.
Kids may enjoy using interestingly shaped soap-making molds for their bath bombs.
Add about 1 tsp. of Bentonite clay to the mixture for harder bombs.
Adding 1 cup of cornstarch makes the bath water silky feeling.
As long as you keep the baking soda and citric acid at a 2-to-1 ratio, you can add and change ingredients for different types of baths.
Warning
Use only skin-safe fragrance oil to help prevent skin irritation. For sensitive skin, use small bath bombs to test for irritation before using a full amount.
Avoid inhaling the dust from the dry mixture.