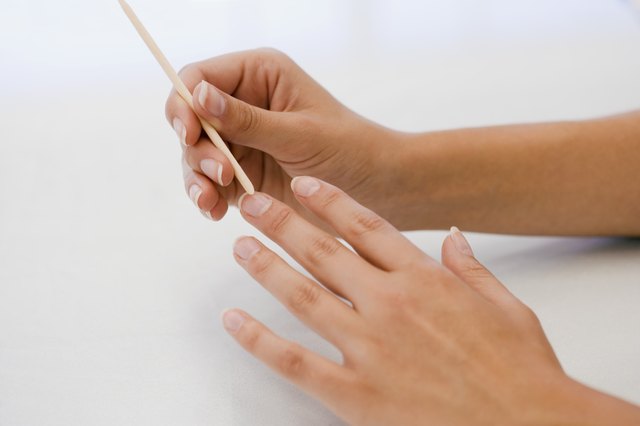 Pixland/Pixland/Getty Images
Cuticle oil is used to keep the cuticles soft and healthy-looking. When not cared for properly, cuticles can become dry and cause hang nails. Hang nails are painful; when pulled on they can split the skin and cause bleeding, so using cuticle oil to help avoid hang nails is a good idea. While you can purchase cuticle oil for this purpose, there are also natural ingredients that can be used to make homemade cuticle oil.
Olive Oil
Olive oil is one alternative to cuticle oil. Simply apply a small amount of olive oil to the cuticle, nail and surrounding skin and massage it in. The skin soaks up olive oil quickly, so olive oil as a cuticle oil can be both money- and time-saving.
Sweet Almond Oil and Tea Tree Essential Oil
Sweet almond oil and tea tree essential oil can be found in most grocery stores in the health-food section, in most stores specializing in health foods or online. Mix 10 drops of tea tree essential oil with two tablespoons of sweet almond oil. Store the mixture in a small jar. When you're ready to use this homemade cuticle oil, a small amount can be warmed up on the stove and then massaged into the cuticle, nail and surrounding skin. Don't wash your hands for an hour or so after applying this cuticle oil to allow enough time for it to absorb into the skin. Keep in mind that if you're allergic to nuts, you should not use sweet almond oil as it could produce an allergic reaction.
Cranberry Seed Oil and Lavender Essential Oil
Cranberry seed oil and lavender essential oil can be purchased in the health-food section of most grocery stores, in a health-food store or online. Add 1/2 ounce of cranberry seed oil and five to eight drops of lavender essential oil to an empty nail-polish bottle. (Empty nail-polish bottles can be purchased on amazon.com.) Put the lid on and shake the bottle to mix the ingredients together. Using the little brush, brush this homemade cuticle oil on cuticles, nails and the surrounding skin; then massage it in. Apply this homemade cuticle oil as often as needed to keep cuticles soft and healthy.
Bear in mind that bacteria and moisture from your cuticles, nails and the surrounding skin are going to be picked up and transferred to the oil in the bottle by the little brush. Because of this, you should discard any leftover homemade cuticle oil every two weeks. Then clean the bottle and brush and make a new batch.