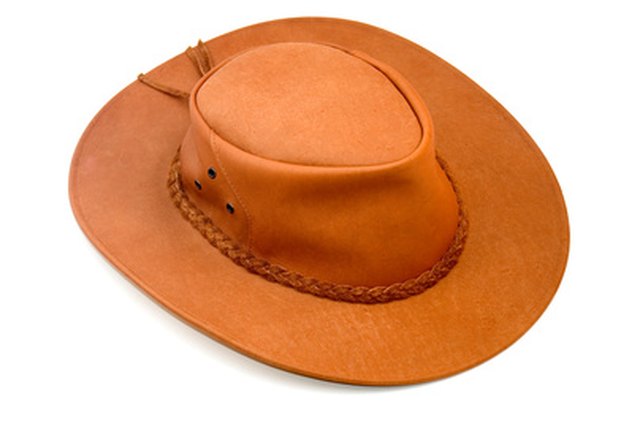 Australian Hat image by Richard Seeney from Fotolia.com
An Australian theme-party offers many possibilities for creative costumes. Find your inspiration from the varied Australian landscape and its distinct wildlife. You can also get ideas from Australian historical figures, modern celebrities and fictional characters. Clothing with an indigenous element works best.
Australian Outback
Australia is home to the kangaroo and the koala. These two internationally recognizable animals can be worked into a humorous costume. Take a gray hooded sweatshirt and attach white fuzzy fabric ears. Add a piece of fabric or draw in a pouch on the front of the sweatshirt. Wear the sweatshirt with the hood up. Combine it with gray sweatpants. Paint your face gray and your nose black, if you can't find a koala mask. If you opt for a kangaroo costume, wear a tan sweatsuit with a long tail attached to the back of the sweatshirt. Attach rabbit-like ears to the hood. If you prefer to remain human, dress like "Crocodile Dundee." You'll need rugged wear, like a sleeveless vest and fitted khaki pants with boots, as well as an Australian Bush hat.
Australian Personalities
Choose to dress as an Australian celebrity like Nicole Kidman or Russell Crowe, or as a fictional character from an Australian sitcom like "Kath & Kim" or "Summer Heights High." Research the character you've chosen and then select wigs, makeup and and clothing that might be believable. Once you're in costume, try to stay in character, by speaking with an Australian accent.
Australian Products and Symbols
Australia is famous for many different products, which could make your costume a great conversation piece. Make a boomerang with some cardboard and paint. Cut out a large boomerang shape and decorate. Allow it to dry before attaching rope to either end. Wear the boomerang on your back, with the rope resting on one shoulder, draping over your chest. Consider a famous Australian food product, like Vegemite sandwich spread or Tim-Tam cookies. You can make Vegemite, with two large cardboard cutouts that resemble a jar. Decorate them realistically, so that one looks like the back of the jar and the other looks like the front. Punch holes in the top of and string them together, so that they rest comfortably on your shoulders. Construct Tim-Tams with large rectangular cutouts to resemble a package rather than a jar. Consider carrying a carton of milk for extra effect. Finally, for an easily recognizable costume, make a toga, with the colors of the Australian flag.