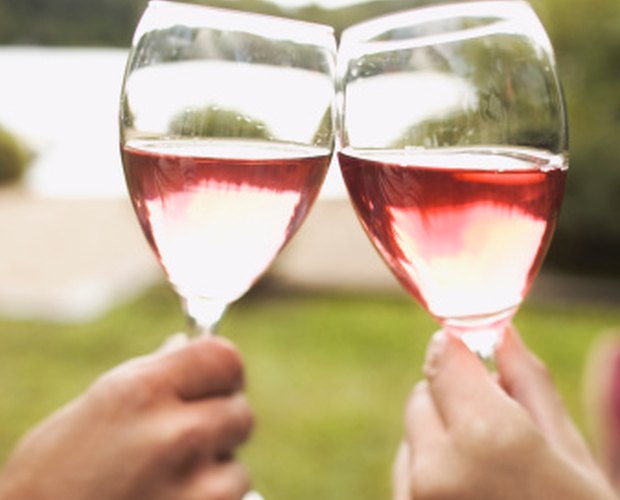 Jupiterimages/Brand X Pictures/Getty Images
Originating from Portugal, Mateus Rose Wine is a medium-sweet sparkling wine. The Mateus company started creating wines back in 1942 for the modern North American and European markets, and included sparkling and white wines. It is part of the Sogrape family company which is one of Portugal's largest wine producing companies. Mateus Rose Wine has its own roller-coaster history, and it is still produced today.
History
Back in 1942, Mateus Rose was first produced by Fernando van Zeller Guedes, as part of a new idea for wines. According to the Mateus Rose website, this new ideas was "a wine with a strong personality and unique flavor presented in an original and innovative bottle." This led to the success of the company. Mateus Rose wine comes in a light, pink sparkling color and is presented in an original bottle which resembles the flasks of soldiers used during World War I. This bottle is shorter as compared to bottles of other wines.
Varieties
According to Mateus Rose, the wine has been successful thanks to the care that goes into its production. There are currently four different varieties of Matues Rose Wine: Sparkling, Shiraz, Aragones and Tempranillo. Each wine is a pink sparkling wine with its own distinctive flavor. The Sparkling wine is intended for special occasions due to its elegance and non-vintage style, while the Shiraz is more contemporary with its medium dry style. Aragones is a wine ideal for both day and night thanks to its youthfulness, and Tempranillo is refreshing with its summery, berry taste.
Production
Each Mateus Rose wine is made from a variety of red Portuguese grapes which include Baga, Rufete, Tinta Barroca and Touriga Franca. The grapes are skinned, followed by slow fermentation, similar to the production of white wines. The wine is then stabilized in the cold, filtered and then bottled. When the wine is being produced, each bottle of Mateus wine is checked for style, color and freshness, to ensure that the unique Mateus style is present and consistent.
The Wine Today
Mateus Rose wine is still produced today, but it has undergone some changes back in 2005. The concept for the wine is still the same, and the varieties have not changed. The original bottle of Mateus Rose however, has been slimmed slightly, and the color of the wine turned from dark pink to clear. The different varieties of Mateus Rose are quite modern as well. Back in the 1970s, Mateus Rose was a wine popular at dinner parties. Its original dark green bottle is still the same today. According to Paul Evans, the Mateus Rose senior product manager at First Drink Brands, the Mateus Rose wine is mainly for young, rich, busy professionals.