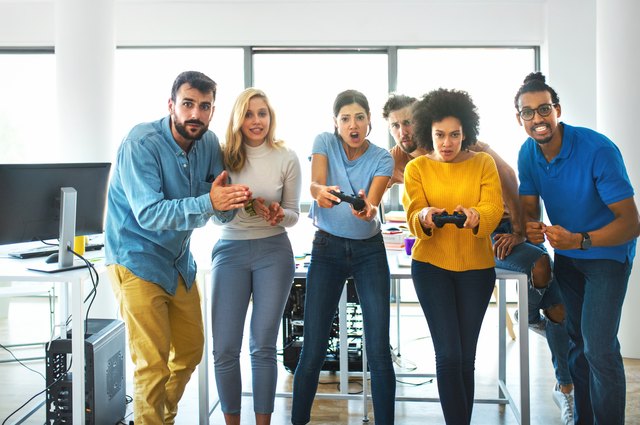 It's true that lots of video games conjure up images of buff, bald, dude-bro space marines plowing through hordes of aliens, zombies or nameless soldiers, but writing off the rest of the medium is like ignoring all movies that aren't Michael Bay movies – especially now that said medium is bigger than music and movies combined.
As gaming expands, it also matures. That's particularly true in the case of these indie hits that dive head first into real-life mental and emotional issues to elicit a powerful response from players in a way that only an interactive format can (even if you're playing as a Pict warrior or a cat).
"Senua" and Psychosis
"Hellblade: Senua's Sacrifice" puts you in the boots of a Celtic warrior on a solo descent into hell, fighting to deliver the head of her dead husband. Like other narrative-driven games, you'll live through Senua's journey firsthand, transported by amazing visuals and sounds so good that the game prompts you to wear headphones. Unlike other games, this one's hero suffers from psychosis.
A set of mental illness symptoms that often results in abstracted perception or the hearing of voices, psychosis is notoriously hard to portray authentically, but this game breaks that barrier. By rigorously consulting with psychiatrists, mental health educators and people who experience psychosis in real life, the developers at Ninja Theory translate an experience – from the hallucinations Senua sees to the voices she hears – that doesn't attempt to "fix" Senua's psychosis or question her validity.
As Paul Fletcher, University of Cambridge neuroscientist and consultant on the game, tells Science Focus, Senua "isn't just a sort of passive receptacle for madness" but "the hero of her own story, trying to make sense of her experiences and work her way through them – that's incredibly de-stigmatising." And work she does. As you struggle through Helheim one battle and blow at a time, watching Senua's story unfold through flashbacks and visions, you'll feel every single one of her losses and victories along the way, turning the game into an extremely powerful vessel for empathy.
Title: "Hellblade: Senua's Sacrifice" (Ninja Theory, 2017)
Platforms: Windows, Xbox One, PlayStation 4, Nintendo Switch
Spending a "Night in the Woods"
If "Hellblade's" psychosis helps us empathize with a less-common experience, then "Night in the Woods" tackles a diagnosis that (per BlueCross BlueShield stats) is up 47 percent among millennials: depression.
In a lot of ways, "Night in the Woods" is "Millennials: The Video Game." Though "Night" uses anthropomorphic animals and storybook-like illustrations by Scott Benson as a wrapper, protagonist Mae's story of relocating back to her slowly dying hometown of Possum Springs and moving into her parent's attic after dropping out of college might just hit where it hurts, even if you're not a cartoon cat.
Animals or not, "Night" excels at nonjudgmental representation. Writer Bethany Hockenberry's hilarious, unpretentious script implies that Mae drops out to handle her depression and anxiety while her hometown friends deal with bipolar disorder and abuse. By delivering a game in a mostly conversational format, "Night in the Woods_" becomes a story about _people with mental health issues rather than a game about mental health – its power comes from normalization.
Benson even reports to Kotaku that the frank approach has helped give some fans "permission" to seek help with their mental health: "Sometimes, you just need to have someone say this is a thing that occurs in your life and it's okay."
Title: "Night in the Woods" (Finji, 2017)
Platforms: Windows, macOS, Linux, iOS, Android, Xbox One, PlayStation 4, Nintendo Switch
Ascending With "Celeste"
According to the Anxiety and Depression Association of America, about 40 million Americans suffer from anxiety disorders. One of those people is Matt Thorson, the creator of "Celeste," who set out to make a pixel-perfect 2D platformer about a girl climbing a mountain.
It's a simple metaphor that makes sense not just to the creator but to anyone who has felt the same way as Madeline, the game's protagonist, and to anyone who has struggled through the tough-as-nails, old-school games that inspired "Celeste." The familiar trappings of retro games and that feedback loop of experiencing and overcoming inner adversity becomes a sort of therapeutic way to experience Madeline's self-actualization and your own.
Despite its difficulty, "Celeste_" is full of reassuring messages to remind you that failure is OK. As Nathan Grayson of Kotaku writes, "Celeste" is "_about taking care of yourself, and understanding that, sometimes, you have to make yourself a priority in order to avoid hurting others."
Like the game says: "You can do this."
Title: "Celeste" (Matt Makes Games, 2018)
Platforms: Windows, macOS, Linux, Xbox One, PlayStation 4, Nintendo Switch