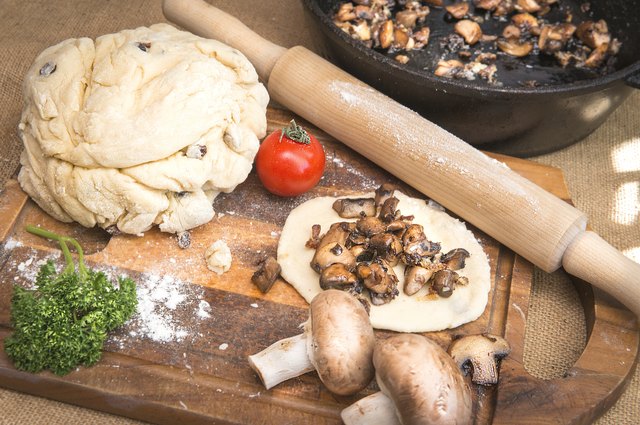 rogkov/iStock/GettyImages
Calzones, or enclosed pizza pies, are as delicious as pizza, and these filled pouches of dough are also just as easy to make. Calzones are great for kids' parties, and they make for a fun interactive meal that adult guests can customize on their own. Ready-made dough and a variety of toppings and fillings allow a hungry group to make their own personalized calzones before sealing the dough and sliding them into the oven. No matter the calzone recipe, homemade calzones are a simple and fun meal that will keep everyone smiling.
What's the Difference Between Calzone and Stromboli?
While calzones and stromboli are both different takes on pizza, there are a few minor differences between the two. Both calzones and stromboli use pizza dough to seal cheese and toppings into the dough, but the presentation of the portable pizza is what distinguishes the two. Calzones are the earlier version of portable pizza, as they come from Italy, while stromboli is an Italian-American invention.
Calzones are folded over once and sealed, similar to a taco shape without an open side. Stromboli is more closely represented by a burrito because the cheese and toppings are rolled into the dough before it is sealed. This means there are inner layers of dough throughout the stromboli, much like a double-stacked sandwich. The calzone is a round pizza shape that gets folded in half. Stromboli is a long rectangle that is rolled up.
Best Calzone Recipe
This recipe is so easy and absolutely delicious. Those who wish to make a pepperoni calzone or other variety can sub pepperoni or other toppings into the cheese mixture instead of the roasted vegetables. Whatever toppings you prefer, simply mix them into the cheese mixture before filling the pizza dough.
Total Time: 1 hour 30 minutes | Prep Time: 1 hour | Serves: 4
Ingredients:
1 medium bell pepper
1 small head broccoli
1 cup baby portobello mushrooms
5 tablespoons extra virgin olive oil, divided
Kosher salt
1 pound pizza dough or frozen bread dough
2 cups low-moisture shredded mozzarella
1 cup fresh ricotta
1/2 cup Parmesan, finely grated
1 teaspoon red pepper flakes
1-2 garlic cloves
1 lemon
1/2 cup basil leaves, packed

1 large egg
1/3 cup jarred marinara for dipping
Directions:
Heat the oven to 400 degrees Fahrenheit.


Chop the bell pepper, broccoli and portobello mushrooms into small, bite-sized pieces and toss in 3 tablespoons of olive oil.


Roast in the heated oven for up to 25 minutes.


Remove the pizza dough from the oven and allow to warm to room temperature.


Divide the dough into 4 equal pieces and cover with a kitchen towel, paper towel or plastic wrap.


In a medium mixing bowl, combine the mozzarella, ricotta, Parmesan and red pepper flakes.


Using a microplane, finely grate the clove or cloves of peeled garlic and the zest of a lemon into the bowl. Stir well to combine.


Stack and roll the half cup of basil into a tight bundle and use a sharp knife to chiffonade. Add the basil to the cheese mixture, thoroughly combining.


Take the vegetables out of the oven and season with salt.


Once slightly cooled, use a rubber spatula to incorporate the vegetables into the cheese mixture.


Drizzle a tablespoon of olive oil over a baking sheet to prepare for the calzones.


In a small bowl, beat the egg.


Roll out one of the pieces of pizza dough into a 1/8-inch round disc. The dough should not be so thin that it becomes translucent. If this occurs, the dough will tear once filled.


Use a brush to spread a thin layer of egg wash around the edge of the dough.


Spoon an adequate amount of the filling onto half of the dough round but do not overfill.


Once filled, fold the dough over and pinch the edges together to seal it well.


Once sealed, brush more egg wash onto the top of the pizza dough. This will give the baked calzone a beautiful, golden-brown, glossy finish.


Bake for 30 to 35 minutes until the calzones are a golden brown.


Place the calzones on a wire rack and prick with a fork to allow the steam to escape and prevent the interior from becoming soggy.


Once cool enough to handle, cut the calzones in half and serve with a small bowl of marinara sauce for dipping.