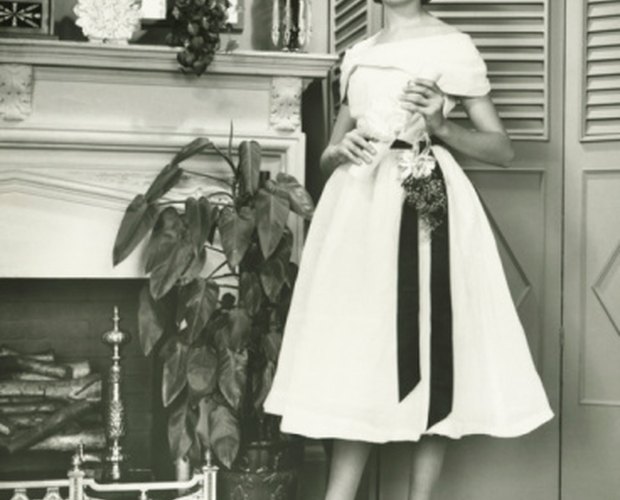 George Marks/Retrofile/Getty Images
The 1950s were a time of pretty and wearable clothing styles but also of classic dramatic affects. Popular colors ranged widely from neutral and sherbet tones to dramatic bold colors and classic black and white. This diversity of style and abundance of color makes the 1950s a fascinating period of fashion history.
Casual Clothing
Casual clothing in the 1950s often featured neutral colors. This lent the decade's casual styles an air of classic simplicity. Neutral colors were often worn in solids rather than patterned prints. Though colors like navy, brown and gray could be found in both solid and print styles, floral prints were particularly popular. Floral prints tended towards the pretty rather than the garish and could be made in both bright and neutral colors.
Evening Wear
Evening wear could often feature bold colors like peacock blue and hot pink. Velvet also became fashionable in the 1950s and might be seen in deeper colors like violet or black. Like casual clothing, evening wear might feature a classic solid or pretty floral print. Evening wear also began to feature sheer fabrics which had color schemes of their own.
Sheer Fabrics
Sheer dresses worn over a flesh colored slip also became popular in the 1950s. These sheer dresses, though daring in stye, were often made in pale pretty colors like white and sherbet tones. For evening, sheer dresses could also be seen in a wide spectrum of gray colors. These grays could range from a dark charcoal to a light and wispy hue of mist.
Black and White
Black and white color coordinated outfits were very popular in the early fifties. One particularly fashionable way to implement this color scheme was to wear a black outfit with white accessories or a white outfit with black accessories. This method of accessorizing emphasized the contrasts of the colors and created a bold yet neatly classic statement. Black and white could be seen in all seasons and during both evening and day.
Spanish Influence
Also in the early fifties, Spanish styles began to influence clothing style and colors. Rich colors like yellow and ruby red became popular and were worn in skirts, blouses and dresses for both day and evening. Like white clothing, these bright colors were often worn with black accessories or accents. This served to ground the colors while also accentuating them for a particularly dramatic and sophisticated affect.