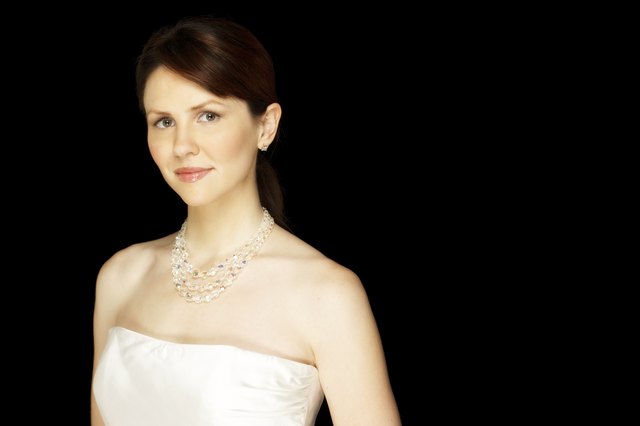 Jupiterimages/Photos.com/Getty Images
Strapless dresses come in a number of different styles and lengths to match any occasion; a strapless dress can be short and summery for informal gatherings or long and sophisticated for formal events and everything in between. One of the most important aspects of any outfit is the shoe that goes with it. Since strapless dresses exude feminine beauty, you want a shoe that does the same and depending on the type of strapless dress you are wearing, there is a different shoe for the job.
Stiletto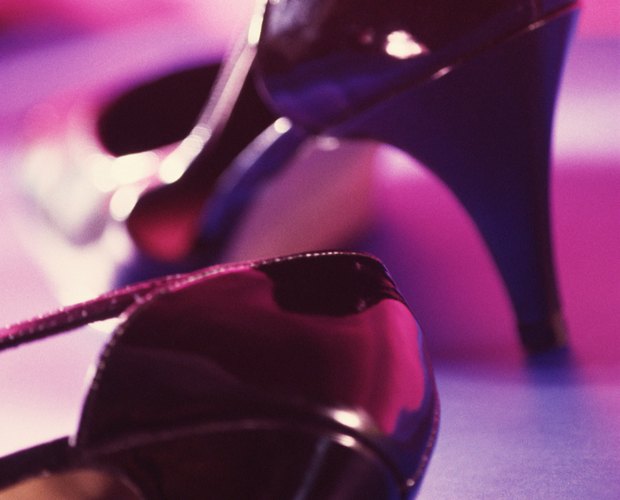 Jupiterimages/Photos.com/Getty Images
Named after the stiletto knife, a type of knife with a long, thin blade, stiletto heels feature a long, thin heel that adds height and helps you maintain proper posture. The stiletto has long been a popular choice for celebrities, models and other members of the fashion industry when they wish to add a bit of excitement and sexiness to their wardrobe. Stiletto heels come in a variety of colors, heights and styles making it easy to find a pair that will work with your dress. Stilettos give your legs and body a thinner look, making them perfect for form fitting dresses and short dresses that leave much of your legs exposed.
Peep Toe
Jupiterimages/Photos.com/Getty Images
Similar to a stiletto heel but with an open end that exposes part of the toes toes, peep toe shoes are ideal for use with longer strapless dresses. Long strapless dresses can make the outfit look unbalanced if worn with closed toe shoes (too much skin up top with too little skin down below). A peep toe heel reveals just enough skin to bring balance to the outfit, while adding the height and posture that comes with a heeled shoe.
Wedge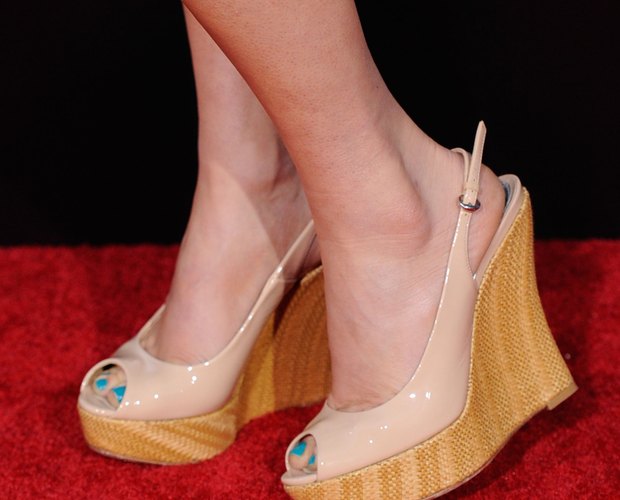 Frazer Harrison/Getty Images Entertainment/Getty Images
A wedge shoe is a type of heel shoe that adds height and posture through a wedge along the length of the shoe that raises it rather than a spike only at the heel. Wedges are ideal for shorter strapless dresses and are more often worn in the summer, perhaps because shorter dresses are more common in the summer. Wedges also provide more support for your feet while giving you the height, posture and sophisticated look of a traditional heel.
Gladiator Heel
Alberto E. Rodriguez/Getty Images Entertainment/Getty Images
Gladiator heels, named as such because of their resemblance to sandals worn by the Roman gladiators, are an alternative to wedge shoes when wearing a short strapless dress. Because these shoes are essentially, sandals with heels, they should only be worn in the summer time or when weather permits. Gladiators come in wedge and traditional heel varieties, depending on the type of look and support you want. Gladiator heels should not be worn with long strapless dresses.