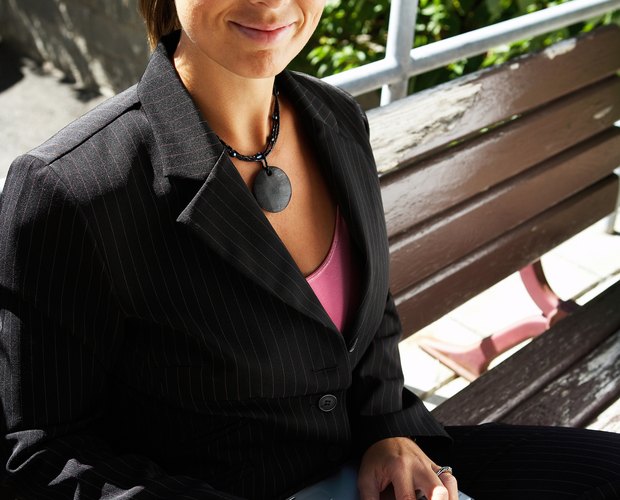 Jupiterimages/Photos.com/Getty Images
Just like a string of pearls or a little black dress, a women's pinstripe suit will never go out of style. To add a little glamour to your workday and after work events, put a new face on your favorite striped suit with bold accessories and strategic pops of color.
Pearls and Statement Necklaces
Give your neck a dose of sophistication with a three- or four-strand pearl necklace. When worn with a white silk blouse and a three-piece wool navy pinstripe suit, your office outfit looks chic and sophisticated instead of stuffy and collegiate. To create ladylike luxe, balance your classic striped suit with kaleidoscope-colored necklaces. While blue- or gray-striped suits work well with silver or pearl accessories, jade, purple or emerald statement jewelry is also stylish and attracts attention.
Brights and Pastels
A black or navy blue pinstripe suit is the perfect neutral canvas for bold brights and pretty pastels. In the spring, pair a blue and white-striped pantsuit with a lavender or raspberry-colored blouse. In the fall, wake up chocolate and black stripes with a purple or mint-green rayon tank or a teal-blue silk tie-neck blouse. To create professional polish for work, wear black, chocolate brown or navy shoes and silver or gold jewelry with your bright tops and pinstriped jackets and bottoms.
Prints, Polka Dots and Florals
Create an unexpected style pairing by mixing florals with stripes. Accent your 9-to-5 look by wearing an eye-catching polka dot or floral top with a black, gray or navy blue pinstriped suit. Stripes can mix with other patterns as long as there's at least one color in common in the stripe and the printed top. For a hint of color and personality, wrap a silk scarf in a bold purple, charcoal gray, green and white print around the neck. Pair this colorful scarf with a crisp white blouse, a charcoal gray-striped pantsuit, a bold raspberry lip and pearl button earrings.
Considerations
When wearing conservative stripes, avoid piling on a hodgepodge of hues in the office. Turn up the volume on your conservative suit with a colorful top or a vivid-colored bag, splashy watch or shoe. For a nautical look, a red circular handbag with a gold chain shoulder strap is a great visual counterpoint to a navy blue and white pinstripe suit and a white silk blouse. Add texture to a silk or rayon pinstripe suit in the spring and summer months with a long-sleeve white cotton lace top or linen tank shirt. And yes, you can wear black shoes with a navy blue or gray pinstriped suit -- but a vibrant red pump takes your menswear-inspired clothing from basic to bold in an instant.