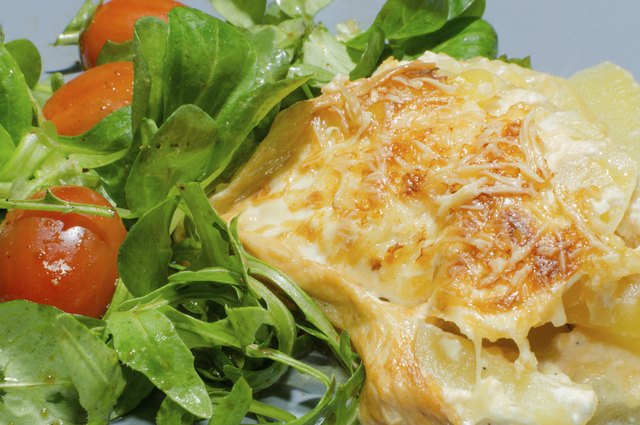 Sebastien_B/iStock/Getty Images
Whether or not you top your scalloped potatoes with breadcrumbs, the creamy sauce, gooey cheese and smooth spuds make it a rich dish that benefits from contrasting flavors and textures. On the other hand, some foods that complement scalloped potatoes don't represent so much a contrast to the dish as a specific flavor enhancement that balances the meal. Serve traditional food companions for the potatoes, but use your imagination too and try out new food pairings.
Traditional Meal Companions
A Southern meal of salty ham, slow-cooked collards with a dash of hot sauce or vinegar and scalloped potatoes has lasted through time for a reason -- the flavors all contrast with one another, but complement each other with a similar richness. Just as classic is an upscale holiday meal of roast beef or rack of lamb with asparagus and scalloped potatoes, where the meat's richness adds a contrasting umami flavor to the potatoes, and the bitterness of the asparagus makes each crisp bite of the potatoes especially welcome.
Weeknight and Weekend Entrees
The mild flavor of scalloped potatoes goes well with most meats, but especially with beef, which has a stronger flavor than plain chicken. Pair the potatoes with a spicy sausage, made with either beef or turkey, or steak topped with salt and pepper for a quick meal during the week, and partner it with meatloaf for the weekend. Or, take inspiration from Chef Michel Richard of the former Citronelle restaurant in Washington, D.C., and serve the potatoes with a bacon-wrapped steak or a steak topped with sauteed mushrooms -- or even an olive tapenade paste.
Accompanying Side Dishes
A crisp green salad awash in a tangy vinaigrette or crunchy coleslaw with vinegar contrast in temperature and mouthfeel with scalloped potatoes, and give you relief from the potatoes' richness. Broccoli or green beans cooked just until they are crisp-tender fill the same role. For something different, add a touch of sweetness to the menu with a fruit salad, or with apple slices or strawberries added to a green salad.
Herbs and Spices for Potatoes
Think about traditional potato flavorings when you add ingredients to the scalloped potatoes themselves and to other dishes on the menu. For example, sprinkle chopped chives on top of the potatoes or in a side green salad. Or cook a mushroom side dish with plenty of rosemary and garlic, two ingredients that often accompany potatoes. Add nutmeg or thyme to the cream sauce for depth of flavor, or experiment with different cheeses such as Gruyere, Swiss cheese or Parmesan.