Sleeves are a functional part of women's clothing intended to keep the arms and shoulders warm. Beyond their functional purpose, sleeves can be designed to enhance a garment's style. A variety of cuts and treatments can make the sleeve the focal point of a garment.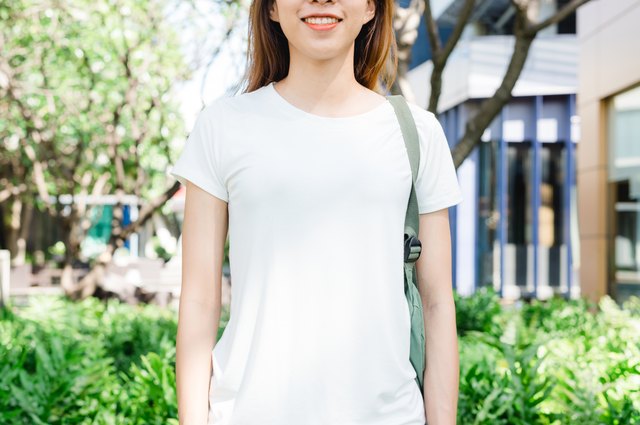 The Sporty Cap Sleeve
One of the main factors for categorizing types of sleeves on women's apparel is the length. Another determining factor is the way the sleeve is cut and how it fits around the arm. The cap sleeve is a short sleeve that sits directly on the shoulder. Cap sleeves are not tight-fitting at all, which allows for a comfortably loose fit above the arms. This is the shortest type of sleeve cut on women's tops and dresses and is often featured in young, sporty fashions.
The Practical Short Sleeve
The fabric on short sleeves is cut between the shoulder and elbow. Unlike the capped sleeve, short sleeves on shirts and dresses are a more form-fitting sleeve. Short sleeves are mostly found on casual and active wear. They are one of the most practical sleeve lengths in warm weather.
The In-Between Three-Quarter Sleeve
Just as the name suggests, this type of sleeve covers three quarters of the arm's length. Three-quarter sleeves leave the area between each elbow and wrist uncovered and are ideal for wearing during cool autumn weather.
The Versatile Long Sleeve
As the name implies, long sleeves run from the shoulder all the way down to the wrist. Long sleeves can be found on t-shirts, blouses, sweatshirts and sweaters. The wrist of a long sleeve may be plain or it may feature a cuff that buttons at the wrist, similar to a men's dress shirt. Flowing sleeves that flair from the armhole are loose at the wrist have gone in and out of style over the years and are currently having a resurgence.
The Festive Puffy Sleeve
Puffy sleeves are most commonly seen on ball gown style wedding dresses, pageant gowns and princess or queen costumes. Puffy sleeves are named for the way this type of sleeve extends out in round puffs around the upper arms or at the shoulders, tapering at the wrists.
The Roomy Dolman Sleeve
The dolman sleeve is an extension of the top of a garment. Instead of being cut as a separate piece and sewn into a garment's armhole, the sleeve is cut as part of the garment body. Dolman sleeves provide a roomier fit and are often used in knit garments. When cut especially wide, they are sometimes referred to as batwing sleeves.