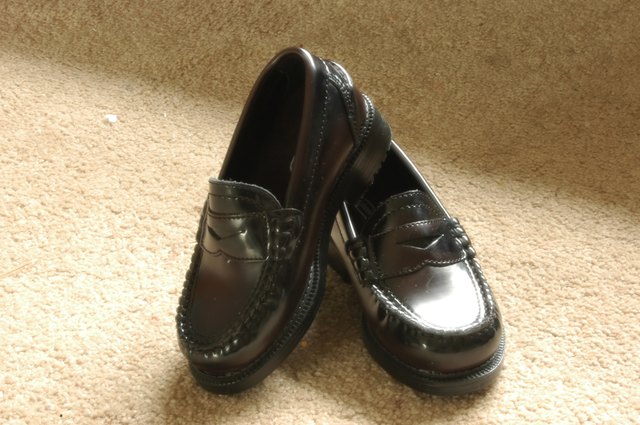 brian humecky/iStock/Getty Images
A pair of penny loafers is as versatile and comfortable as a white cotton t-shirt. This wardrobe shoe staple has been around since the early 1930s and commands respect -- whether worn with a sleek suit or silky sundress. It's the quintessential shoe for men and women who want to look smart and feel comfortable in the boardroom during the week -- or appear pulled together on the boardwalk on the weekends. Today, black, burnished and brown penny loafers share the limelight with bright colors and fun patterns that continue to put the loafer at center stage.
Milking the Practicality
More than a century ago, Norwegian dairy farmers wore leather shoes with a strap across the front to milk cows. In 1930, The Spaulding family from New Hampshire made an American version of the leather shoe, and then named it a "loafer" after the cows who loafed around the milking area. Shoe manufacturer G.H. Bass & Co. stomped onto the scene six years later and put a stylish spin on the utilitarian shoe by calling it the Weejun, and adding the now-iconic strap detail with slots for pennies so that the wearer always had money to make a phone-booth call.
Counting on Construction
Penny loafers were -- and still are -- known as an exceptionally sturdy slip-on. Bass Shoes & Co. is still dedicated to making penny loafers with the same bench-crafted and hand-stitched material that made the shoes so comfortable in the first place. Today, many widely revered brands -- Ralph Lauren, Ermenegildo Zegna and Allen-Edmonds to name just a few -- have followed suit, making sure that quality control remains at the forefront so that their loafers remain a shoo-in with consumers. The penny loafer walked onto college campuses in the 1950s and 1960s touting the hottest look; today it's the genuine leather insoles, comfy linings and cool colors that make people step up and pay anywhere from $50 to $500 a pair.
Looking for the Right Brand
The penny loafer is worn with everything from a suit to a sundress. It's one of the most versatile, unisex shoes you can slip into -- ranging in colors, materials and patterns. Men in the workforce typically like brown, black and cherry during the work week, while women go for everything from animal prints and textures to velvet, leather, suede and rubber. Florsheim, G.H. Bass & Co., Johnston & Murphy and Allen Edmonds are popular brands for men; Coach, Cole Haan, Tod's and Gucci catch the eyes of women with discriminating shoe taste.
Wearing Loafers Today
Women delight in a heeled lace-less loafer just as much as its classic counterpart. Suit- and skirt-wearing women enjoy the penny loafer in styles ranging from pumps to wedges. Add a pair of patterned tights to the mix and your winter wardrobe gets a little hotter. Traditional men's suits look best with a pair of classic penny loafers and complementing socks, although designers such J. Crew, Ralph Lauren and Tod's play up the fun with punchy colors perfect for pairing with shorts or khakis. A popular weekend loafer look includes slim-fitting pants or jeans rolled at the cuffs and no socks.