roses on a chair image by LadyInBlack from <a href='http://www.fotolia.com'>Fotolia.com</a>
Luxury fabrics such as chiffon have been used since the 1700's in Europe to indicate status and wealth. Silk chiffon is an elegant, sheer fabric with a soft drape, stretch and shimmering appearance. Polyester chiffon is more versatile because it comes in a variety of stripes and patterns and is available in several different weights. Both polyester and silk chiffon are used in evening dresses and bridal wear as well as costume design and home decorating such as window treatments and lamp shades.
History of Fabric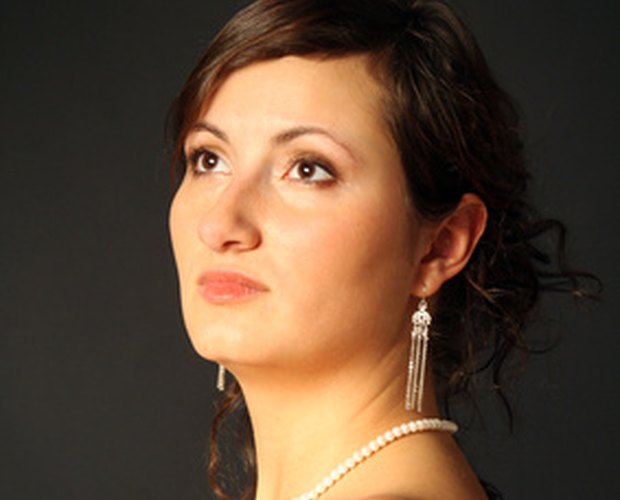 lady image by Angelika Bentin from <a href='http://www.fotolia.com'>Fotolia.com</a>
The history of silk dates back 3,000 to 4,000 B.C. in China. Chiffon was made exclusively of silk until nylon was invented in 1938. In 1958, polyester was produced and polyester chiffon became more widely used because of its cost and durability. Traditionally, silk chiffon has been used around the world. In 1986 the Textile Museum in Washington, D.C., displayed traditional, embroidered chiffon caftans from Saudi Arabia worn by townswomen in the privacy of their homes, demonstrating the worldwide appeal of the fabric.
Silk Chiffon
lady image by Angelika Bentin from <a href='http://www.fotolia.com'>Fotolia.com</a>
The word chiffon comes from the French word "chiffe," meaning "rag," and the fabric has a soft flowing texture. The S- or Z-twist of the threads is what gives the fabric its "stretch." Silk chiffon was once worn only by the wealthy as a sign of status. Now it is used in wedding dresses and evening gowns and for window treatments or on lampshades. Silk should be dry-cleaned. The delicate fibers stretch or shrink if you wet the fabric and will not return to their original shape.
Polyester Chiffon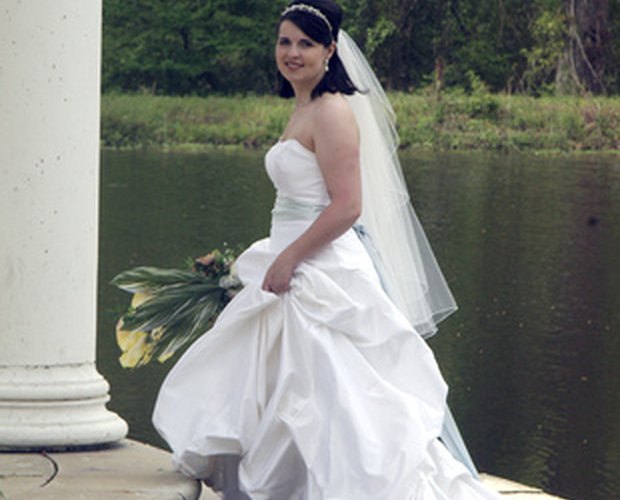 bride on steps image by BONNIE C. MARQUETTE from <a href='http://www.fotolia.com'>Fotolia.com</a>
Because polyester chiffon costs less and is easier to care for, it is now more frequently used than silk in both bridal gowns and prom dresses. In cases where cost and practical concerns are not an issue, silk is still the fabric designers most often choose. While polyester is more durable than silk, it is harder to dye. Unlike silk, you may wash polyester chiffon, although hand washing is the preferable method.
Specialty Chiffon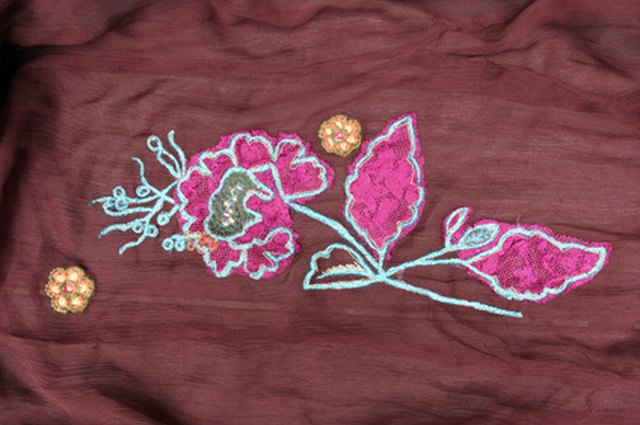 fabric image by Gina Smith from <a href='http://www.fotolia.com'>Fotolia.com</a>
Specialty chiffon fabrics, which have been crushed, textured and sequined, are also available in a wide range of colors. Chiffon fabric with a velvet stripe or decorative accent woven into the fabric is often used in dancing and ice skating costumes. In Romania, chiffon is a type of bleached cotton used to make shirts. In Germany and Austria, it is a durable linen fabric with a smooth finish, and is used for shirts and underwear.
Variation in Cost and Quality
The wholesale price of polyester chiffon ranges from $70 to as little as $2 per yard at discount websites. Top-quality hand-printed or beaded silk chiffon sells for $400 per yard and more. Prices vary according to width. Some websites offer to send sample swatches. Check prices between local fabric stores and Internet distributors. Some Internet distributors also have onsite store locations.