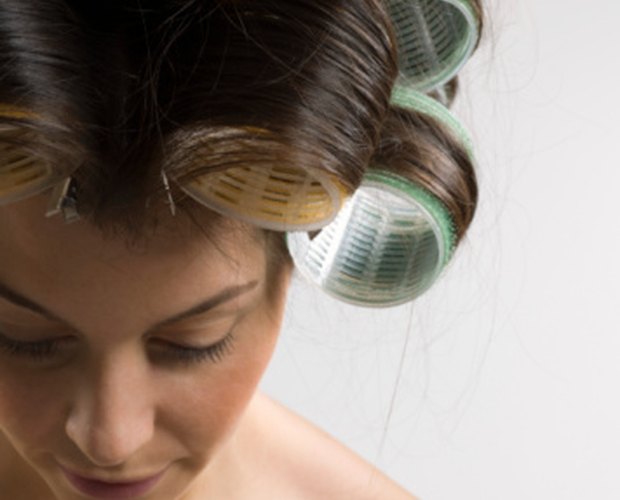 Jupiterimages/Polka Dot/Getty Images
Velcro rollers have many uses on almost every type of hair. They can help you create bouncy, loose waves, or they can add volume to a limp hairstyle. Using them correctly is important in achieving the desired result. Hair should be smooth and shiny, rather than frizzy or tangled. When used the right way, Velcro rollers won't snag your hair or cause strands to break.
Brush or comb hair to remove tangles. Hair should be damp or dry when putting in rollers.
Apply a styling product such as spray gel, mousse, a styling cream, or a curl enhancing product such as a cream or spray, evenly throughout hair.
Separate hair into 2 to 3 inch sections using a comb or your fingers. These sections depend on the style you want to achieve. If you want to add loose curls all over, separate all of your hair into sections, or grab each section as you go. If adding volume just to the top part of hair, separate the hair on the crown of your hair into two or three sections.
Take a section of hair and place its end on a Velcro roller. Roll up until the roller rests against your head. Secure it in place by gently squeezing it until it holds, or by adding a clip or bobby pin to hold it in place. Repeat for each section.
Rest for 20 minutes to an hour, without doing anything. The rollers will curl hair, but fix them if they start falling off. To speed up the process, blow dry hair for 5 minutes and allow it to cool for about 20 minutes.
Unroll each Velcro roller down the same way as you rolled it up. Do this gently without ripping hair from the roller. Do not pull on the roller which may cause tangling. If hair sticks to roller, use a comb to gently remove it from the roller.
Separate curls or strands with a comb or with your fingers. Add a styling product such as hairspray for extra hold.
Tip
Use a styling product to prevent strands from sticking to rollers. If you have trouble removing the rollers, do not squeeze them tight when rolling up, but hold hair on them in place using bobby pins.