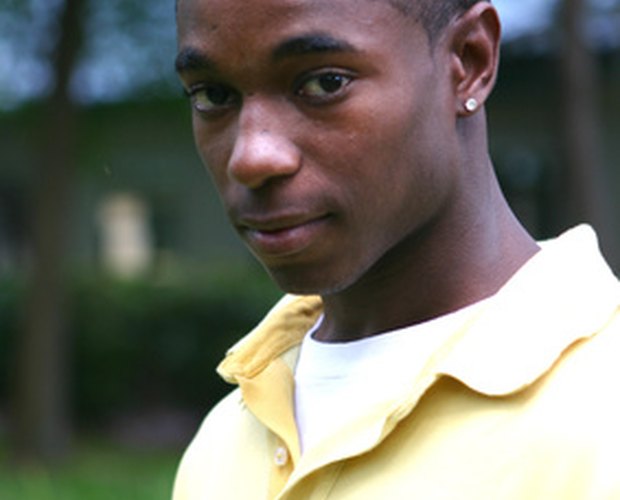 chavez,young,sexy,cute,handsome,black,male,man,mod image by Earl Robbins from Fotolia.com
Black men can experience skin discolorations for many reasons, including birthmarks, acne and razor bumps. These discolorations can be evened out or faded with different skin lightening products. There are multiple safe skin lightening products available, although some do contain ingredients that are harmful.
Makari's Caviar Face Lightening Cream
Makari manufactures high-end skin care products that are well-suited for men and women with dark complexions. Makari products are manufactured in Switzerland. Makari's Caviar Face Lightening Cream is formulated to even out discolorations and uneven pigment in your skin. This product has all-natural ingredients including caviar extract, mulberry leaves, lemon leaves, corn and wheat germ.
Likas Papaya Skin Whitening Herbal Soap
Papaya Skin Whitening Herbal Soap is organic, contains no harsh ingredients and is produced in the Philippines. Likas Papaya soap lightens dark areas on your skin caused by scars, freckles and age spots. The active ingredient in the soap is papain, an enzyme found in papaya that gently exfoliates and dissolves dead skin cells. Dark areas on your skin will begin to fade in two weeks. Likas Papaya soap is not expensive and can be purchased from $3 to $5.
Meladerm by Civant
Civant produces Meladerm, a popular skin lightening product among blacks due to its great results. Like Caviar Face Lightening Cream, Meladerm contains natural ingredients. Meladerm works by suppressing the production of melanin, which is what gives skin its pigment. You should see results within two weeks. Meladerm is expensive but comes with a 30 day money back guarantee. When using Meladerm, always use a sunblock of at least SPF 30.
Palmers Fade Cream
Palmers Fade Cream is not an all-natural product. It moisturizes your skin and fades skin discolorations caused by freckles, age spots and scars. Palmers contains Alpha Hydroxy which softens the skin and allows the fade cream to go under the surface to lighten the pigmentation. It also contains other ingredients such as lemon and orange extract, corn oil, mineral oil, sodium sulfite and sugar cane. With this cream you will see long term results in six to eight weeks. Use SPF 30 sun block with this cream while outside.