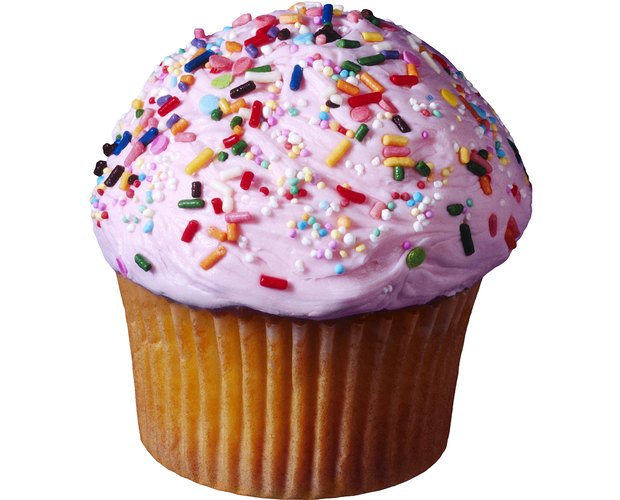 Brand X Pictures/Brand X Pictures/Getty Images
The giant cupcake advertised on television looks easy enough to make. In fact, the commercials tell you just that. When the giant silicone cupcake pan arrives, however, all notions of easy baking are immediately in doubt. The silicone "pan" is actually three pieces of varying shapes. They each serve a purpose in baking and constructing the giant cupcake. Fortunately, their use is truly simple enough to understand, once you get the hang of a few general instructions.
Wash the three silicone baking pieces with dish soap and warm water. Towel dry the pieces thoroughly before using them.
Spray each piece with the cooking spray. Cover the inside of the two deepest pieces that are the base and the top of the cupcake. Spray both sides of the third piece that constitutes that filling insert.
Place the cupcake base pan and the cupcake top pan on a cookie sheet. Fill these two deepest pans with cake mix. Leave room in the base pan for the insert. Place the insert on the base piece, with the curved side placed into the base.
Bake in a preheated oven. Use the heating instructions listed in the cake mix recipe. Leave the pieces in the oven for 35 minutes before testing.
Test by inserting a toothpick inside the cupcake. When the toothpick comes out clean, the cake is done. The presence of cake mix on the toothpick means it requires a few more minutes of baking; then try another toothpick test.
Remove the cakes from the oven, take off the insert and let the sections cool for up to 15 minutes. Place a plate on top of the base and turn it upside down. Take the mold off the cake using a peeling motion. Repeat with the cupcake top.
Assemble the giant cupcake. Place the desired filling in the base, inside the indentation made by the insert. Frost the cake exposed at the top of the base and place the top on. Frost and decorate as desired.
Wash the silicone bakeware in warm soapy water once it has cooled. Towel dry before storing in a dry place at room temperature.
Tip
According to Big Top Bakeware, makers of the giant silicone cupcake pans, the base may take 45 to 50 minutes to bake with the insert and up to 40 minutes without it.
You cannot toothpick test the insert, as the insert must stay in place during baking. You can lift the insert at the 45-minute mark to test for doneness, however.
Warning
Big Top Bakeware state that the bakeware cannot withstand heat higher than 464 degrees F. Keep your oven heat measurement below this temperature.