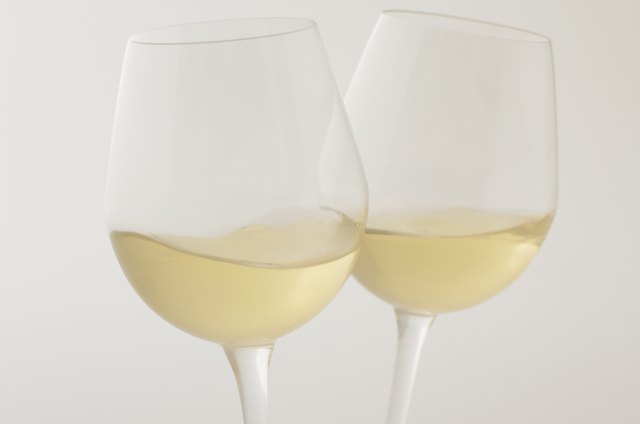 Hue/amanaimagesRF/amana images/Getty Images
A wine cooler satisfies your yen for a refreshing vino without the full alcohol content that comes with a glass of wine. A novelty of the '80s still in production today, coolers combine wine with fruit juice, sweetener and a bit of carbonation for a drink similar to a wine spritzer. Popular bottled flavors include peach, strawberry daiquiri, margarita and berry. Make a large batch for your next party.
Homemade Wine Cooler Formula
The cost of wine coolers can quickly add up if you purchase bottled wine coolers one four-pack at a time. Save by making your own wine coolers, using 1- to 5-gallon beverage coolers with dispenser spouts. Mix 1 part fruit juice, 1 to 2 parts dry white wine, and 3 parts club soda or lemon-lime soda in a beverage cooler or pitcher. Add simple syrup or honey to taste, usually about 1 cup per gallon of wine cooler drink. Stir in ice to cool the ingredients.
Flavor Options
To make peach wine coolers, add peach juice or nectar. Strawberry juice or strawberry puree is needed to make strawberry daiquiri wine coolers. Make margarita wine coolers with lime juice -- and pour in strawberry juice to make strawberry margarita wine coolers. Mixed berry fruit juice and a blend of tropical fruit juices provide additional possibilities.