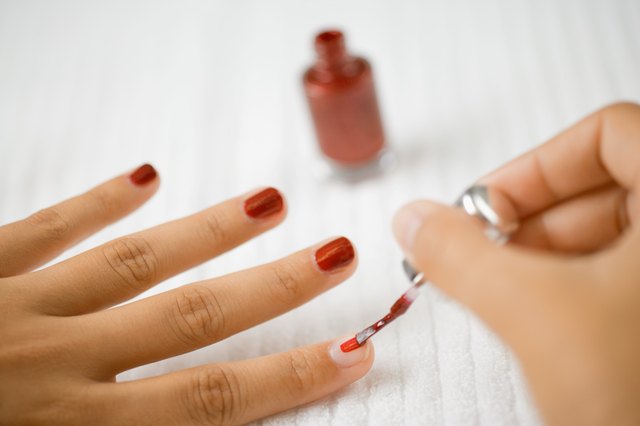 Pixland/Pixland/Getty Images
The right nail polish can be the ideal finishing touch to an outfit or makeup look. When you start to age, though, choosing the right shade and finish is key. As your hands start to develop wrinkles and age spots, and the skin becomes thinner making veins more apparent, you need to find polish that helps detract from the signs of aging, not emphasize them. It can be tricky, but there are still plenty of nail polish options available for mature women.
Red
Red, a classic nail polish shade, can be an attractive option if you have aging hands. Because it's a bold color, the eyes are drawn to your nails and not wrinkles, age spots or veins that may make your hands look older. Albeit, the key is choosing the right shade. Stay away from blue-based reds that can call attention to blue veining in your hands. Instead, opt for a warm red that livens up your skin tone -- tomato and orange-based reds are an ideal option.
Pink
Like red, pink nail polish is a classic option that can suit aging hands to a tee, provided you choose the right shade. If you have fair skin, a petal-pink shade can be very attractive -- just make sure there's enough contrast between the polish and your skin color to draw attention to the nails. If you have olive skin, a pinky-nude or pinky-beige shade is an ideal option. Bright pinks such as magenta or fuchsia are flattering for all skin tones with aging hands, but they are especially pretty when paired with dark skin. Deep berry pinks are also a good option for darker skin tones.
Orange
If red and pink aren't your thing, a vivid orange nail polish can be flattering on aging hands. Like a true red, orange has enough warmth to brighten the skin and bring emphasis to your nails instead of your hands. If a vibrant tangerine shade is too much for your taste, try a deeper orange shade with some red in it to tone down the look. You can also go with an orange-pink or coral polish, which is an especially attractive shade for spring and summer.
Finish
In addition to color, pay attention to the finish of your nail polish when you want to complement aging hands. Stay away from sheer finishes that won't create enough distinction between your skin tone and the polish shade. Instead, choose creamy, opaque polishes that provide plenty of color payoff. You may also want to consider metallic finish. These types of polish have a slight sheen without any chunky glitter so they reflect light and bring attention to your nails instead of your hands.