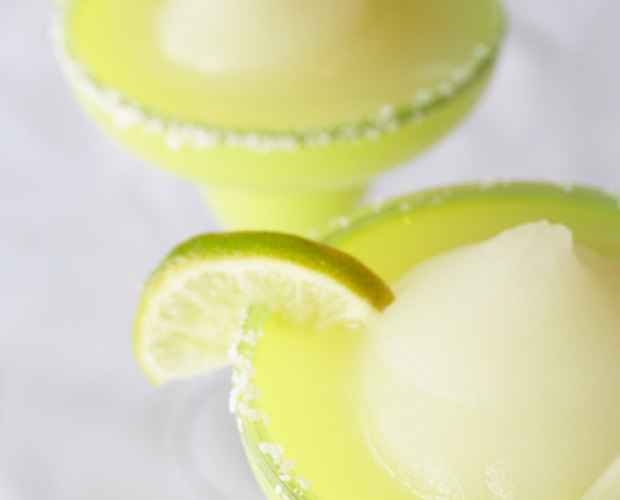 Jack Hollingsworth/Photodisc/Getty Images
The Magic Bullet is a device designed to make short work of all kinds of kitchen tasks such as chopping, mincing, blending and crushing. Making a margarita in Magic Bullet is not that different from making one in a blender, except the Magic Bullet doesn't have any buttons to operate. What it does have is a powerful blade that can effectively combine ingredients so you can concoct a frozen margarita within seconds.
Pour three ounces of tequila, one-and-a-half ounces of orange-flavored liqueur, four ounces of sweet and sour and six or seven ice cubes into the tall cup of the Magic Bullet. Substitute limeade for the orange liqueur and add a cup of frozen fruit for a fruit-flavored frozen margarita.
Twist the cross blade attachment onto the cup until it's tightly sealed. Turn the cup over, so the blade is facing downward, and line it up with the tabs on the Magic Bullet base.
Press down on the cup to turn on the Magic Bullet and hold until all ingredients are blended smooth.
Serve in a margarita glass. If you prefer salt on the rim of your glass, pour margarita salt on a small plate. Wet the rims of the margarita glasses with a damp paper towel and then press the rims into the salt. Then pour in the blended margarita. Garnish with lime if desired.
Tip
Tequila and orange liqueur come in different grades, such as Top Shelf. Use what you prefer.
Substitute white wine for the tequila if you prefer.
Warning
If you place too many large pieces of ice into the Magic Bullet, it may have a difficult time crushing them. Smaller, cube-type ice works best.