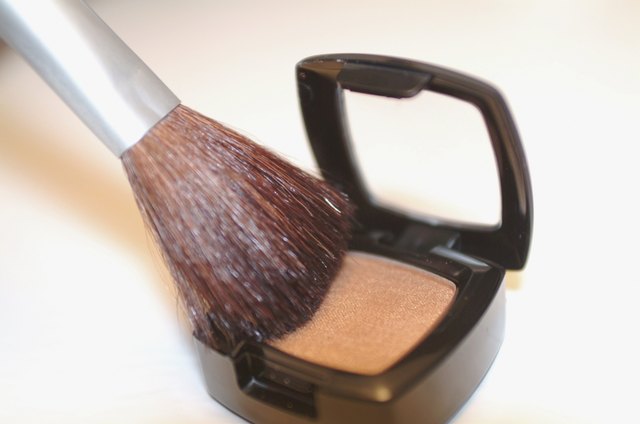 Medioimages/Photodisc/Valueline/Getty Images
The significant makeup look of the early 1990s was the "grunge look," inspired by the music of the time period. This look of disheveled makeup and hair was not supposed to look pretty or glamorous, rather the opposite. Mid '90s makeup saw a return to pretty with the rise of neutral and brown-toned makeup with matte skin and lips, while the bare-faced, no makeup look of the late '90s was popularized in perfume ads of the time.
Grunge Look
Simon Willms/Lifesize/Getty Images
The popularity of grunge music strongly influenced makeup in the early 1990s. Slept-in, heavily-applied black eyeliner was one grunge look, as were (sometimes smeared) red lipstick and black nail polish. Lips that weren't red often were a dark metallic color. Glitter also was popular and was applied on eyes, lips and cheeks. Colors during the early '90s were intense--deep reds, purples, greens, blues, and silvers, often with a black tint. Pale, matte skin was popular and foundation often was lighter than skin tone. Mascara was applied to keep the eyes looking dark. Blush was usually not worn, and eyebrows were not shaped or were more upturned.
Neutral Tones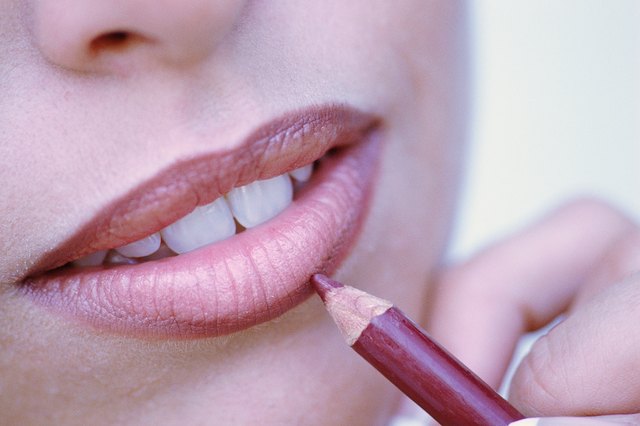 Stockbyte/Stockbyte/Getty Images
Neutral, matte makeup was popular during the mid to late 1990s. A wide variety of neutral, light pink, and brown shades were worn on the eye, such as a light shade on the lid, a darker shade in the crease and highlighter on the brow bone. Eyeliner typically was dark and applied only to the top lid; lipstick and foundation were matte. Liquid or cream foundation was applied all over the face and topped with a dusting of powder. Deep red/wine lipstick and lip liner was worn for an evening look, while daytime lipstick stuck to light brown, neutral and pink hues with liner. Lip liner was worn even if lipstick and gloss were not. Mascara in browns and blacks also were popular. Blushes were creamy pinks, dusty rose tints, and neutral/bronze colors. Eyebrows of were of medium thickness, well-kept and sometimes bleached.
No-Makeup Look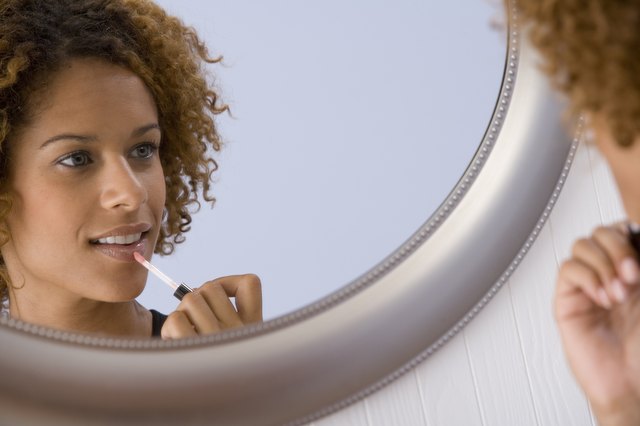 Comstock Images/Comstock/Getty Images
The bare face/no-makeup look was popularized in the late '90s. Skin was free of foundation and dewy--often just moisturizer. Concealer was used if necessary, and powder skipped. Blush was either not worn or applied sparingly, unlike other '90s makeup looks that used heavy blush. Cream foundation went on the eyelids in place of eyeshadow or eyeliner--or the liner was white. Clear mascara also became popular in the late '90s, as did clear gloss. Eyebrows generally were thicker as a more sporty look became popular.