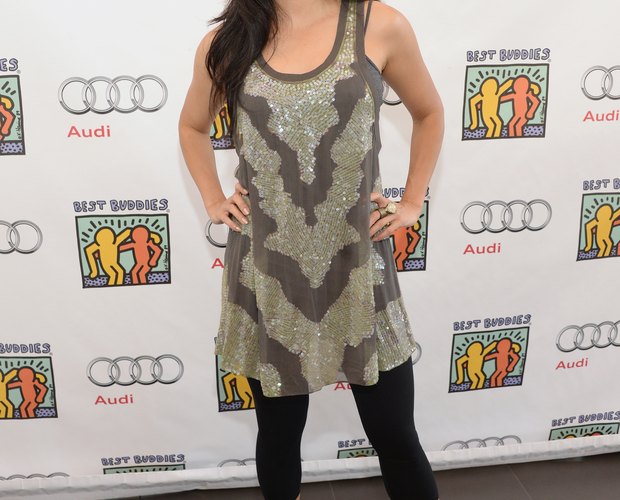 Jason Kempin/Getty Images Entertainment/Getty Images
Leggings are a wardrobe staple for many women, as these stretchy pants are both functional and stylish when worn correctly. Because leggings aren't pants and are ultra form-fitting, they should be worn with longer tops to cover your backside. While this rule may constrict you a bit, the good news is there are plenty of chic long tops to beautifully complement your leggings.
Long T-Shirts
Wear your leggings with a long t-shirt for a casual look. As a rule, your shirt should be at least long enough to cover your bum and shouldn't be too fitted. A simple white or gray tee works well, but graphic tees are also cute if you're looking to spice things up. Top your tee off with a cropped jacket -- the difference in proportions makes your outfit more interesting.
Sweatshirts
When the weather cools off, stay casual and wear your leggings with an over-sized sweatshirt -- for the fashion maven, this doesn't have to be your average sweatshirt. Sweats actually come in fashion styles that are sporty and stylish. Try an '80s aesthetic in a one-shoulder version or pick a sweatshirt in an interesting print or one with embellishments. On your feet, slip on a pair of lace-up ankle boots for a dash of casual edge.
Oversized Blouses
Get inspired by the "boyfriend" look and pair your leggings with an oversized button-up blouse. A simple white blouse works well with heels, oxfords, ballet flats or boots. For a more feminine look, pick a button-up in a lighter fabric like silk or in a print like floral, or try a versatile chambray shirt. Toughen things up with a leather motorcycle jacket for contrast.
Oversized Sweaters
Keep warm, cozy and cute in a long chunky sweater and leggings. Sweaters are also good for layering; wear yours over a button-up blouse, allowing the collar to peek out over your sweater. Long cardigans also work over blouses though they layer well over tees and tank tops too. This versatile look can be worn with boots, ballet flats or menswear-inspired oxfords.
Tunics
The versatile tunic can be worn as a top or a dress -- they're also a perfect complement to leggings. Tunics are typically loose, flowing and long -- but not too long -- making them an ideal match for a fitted bottom. Keep your tunic comfortable by pairing it with boots or dress it up with wedge heels. Any tunic will work with a simple legging, so opt for a simple cotton tunic for errand running or pick a dressier, embellished style for a fun night with friends.
Dresses
Swap out a long top for a dress. Transition your summer dresses into the fall and winter by wearing them with leggings and a denim or leather jacket. Or, go for the unexpected and pair your leggings with a sparkly dress. Edge up the look by slipping on combat boots and a cargo or leather jacket for an urban-cool vibe.