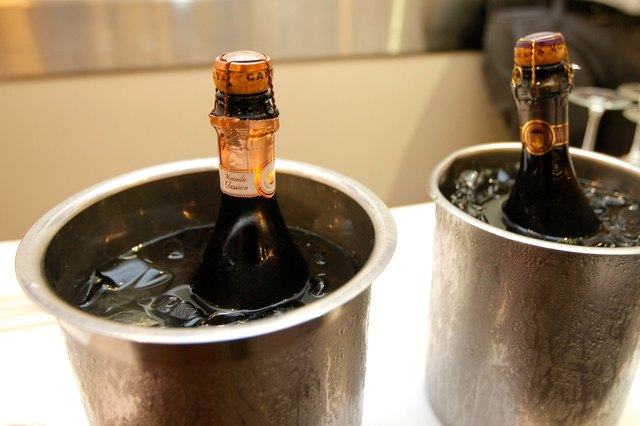 Aaron Cansler/Getty Images Entertainment/Getty Images
Wine lovers of a certain age might remember Lambrusco as a rather sticky-sweet form of Italian bubbly, popular in the days of disco and polyester suits. While that era in both wine and fashion has thankfully passed, Lambrusco is still around and widely available. Semi-sweet Lambruscos complement fruit and light desserts, while more sophisticated dry Lambruscos make an elegant accompaniment to food or a pleasantly festive wine for social occasions.
A Quick Lambrusco Primer
Lambrusco wines are native to the Emilia-Romagna region in Italy's north, the same region that produces such signature Italian exports as prosciutto, Parmigiano-Reggiano and the finest balsamic vinegars. A smaller number are produced in the neighboring region of Lombardy. It's a red grape, and the wines made from it can range from deep red to pale rose depending how long the juice ferments on the skins. As a rule, darker Lambruscos are more tannic and more deeply flavored.
Dry Lambruscos
Dry Lambruscos encompass a range of styles. Depending on the region, the winemaker's preferences and which version of the Lambrusco grape is used -- there are more than 60 -- they can be very light, or robust and tannic with deep flavors. They'll also vary in their degree of frothiness, from fresh and lightly bubbly to the same kind of fine, long-lasting "mousse" you'd find in a good Champagne. If you're new to Lambrusco, this range might seem daunting. Find a knowledgeable staffer at a local wine store or do some research online, and look for Lambruscos that are described in terms similar to wines you already know and like.
Semi-Sweet Lambruscos
Semi-sweet and off-dry wines are often dismissed as "starter wines" for anyone who's too young and inexperienced to appreciate the good stuff. That doesn't necessarily apply to Lambrusco, or at least not all semi-sweet Lambruscos. High quality off-dry Lambruscos retain enough acidity and tannins to remain refreshing and easily pair with spicy, sweet or otherwise challenging foods.
This With That
Italians form intense regional traditions, and the wines of a given region are usually vinted to match well with foods from the same region. In the case of Lambrusco, that's especially favorable, since the Emilia-Romagna region is home to many of Italy's finest ingredients. Dry and complex Lambruscos provide a refreshing accompaniment to dishes rich with Parmigiano-Reggiano, such as pasta in cream sauces or a hearty risotto. Lighter Lambruscos make an excellent accompaniment for appetizers, prosciutto and other cold cuts, or cheeses with less assertive flavors. Semi-sweet Lambruscos go well with nuts, fruit and desserts, as a pleasant end to your meal.