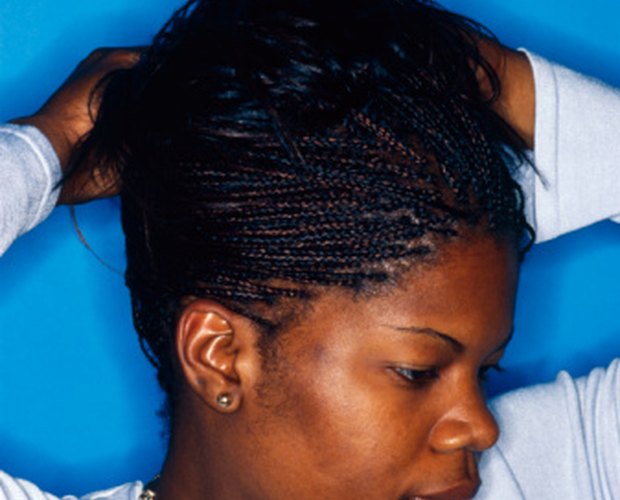 Creatas/Creatas/Getty Images
Micro braids and other braid hairstyles are popular among African-American women. Micro braids are a low-maintenance alternative hairstyle because braids can last for three to four months at a time with proper maintenance. The process of getting micro braids is lengthy and should be done by a professional hair stylist. Proper upkeep is a necessity when wearing braided hairstyles. Using heavy shampoo, conditioners and moisturizers causes braid buildup and will make the braids erode faster. Certain techniques, however, can be done to preserve the newness of the braid style and help to keep your natural hair in good condition.
Soak hair and braids completely with lukewarm water. The extensions take longer and require more water to get saturated.
Pour a small amount of braid shampoo in your palm. More hair doesn't mean a large amount of shampoo is needed to create lather.
Begin working the shampoo into the scalp. Avoid pulling on the braids, as this can cause the braid to slip. Massage the shampoo with circular motions, which will allow the shampoo to spread throughout the hair without pulling on the braids.
Rinse the hair completely and shampoo again. A ponytail holder or hair clip can be used to keep the ends of the braids intact as the scalp is being shampooed. This will also keep braids from slipping or becoming loose.
Rinse shampoo out of the braids. Separate each section of hair while rinsing to ensure all shampoo is being washed out. Residue can accumulate and cause braid erosion if all of the shampoo isn't rinsed out.
Condition and moisturize the braids after shampooing and allow to air dry. Using a scarf when hair is drying will help reduce frizz around the hairline. Style braids as desired.
Tip
Use shampoo specifically formulated for braid hairstyles for best results. Massage scalp every few days to ease the tension from the braids pulling on the natural hair and while shampooing. It's best to use less cream based products when wearing braid hairstyles. Cheaper products are more water based and will help preserve the life of the braids.
Warning
Avoid shampoos containing silicone ingredients, as these cause braids to loosen. Dilute regular shampoos with water prior to using with braid hairstyles. Don't wash micro braids more often than once every two weeks to help braids look new and fresh. Washing too often will cause braids to look worn.