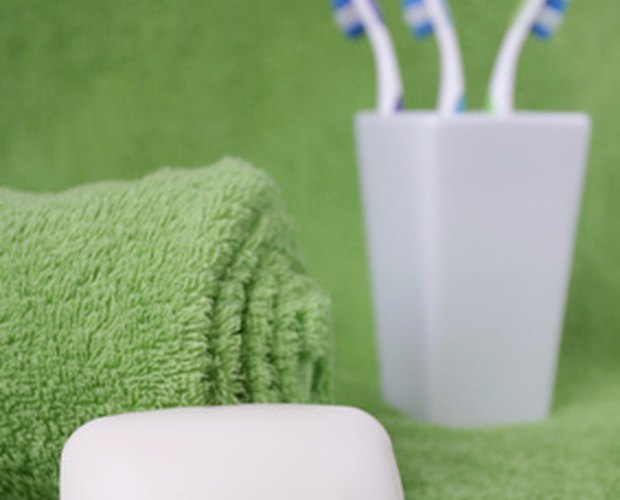 There are many different kinds of soap available today. Some contain moisturizers, some are antibacterial, and many are scented. If you choose to wash your face with soap, you should typically use a soap that is made for the face rather than a general body soap. The latter is often too harsh to use on the delicate skin of the face. You should also pay attention to your skin's needs. If you have oily skin, a regular face soap is fine. If you have dry skin, however, the soap will probably dry it out even more. For dry skin, opt for a gentle soap that contains moisturizers, even if you plan on moisturizing after you wash.
Run warm water from your sink faucet, and wet a clean washcloth. Gently rub it over your face to open the pores.
Wet a bar of soap beneath the faucet and rub it in your hands to create lather. Spread the lather over your face using circular motions with your fingers. If you are using liquid soap, pump a quarter-sized amount into your hand and spread it over your face using circular motions.
Leave the soap on your face for up to a full minute. If you are using a moisturizing soap, this will help moisturize even more. If you are intentionally using regular soap to dry out oily skin, waiting a minute will also help.
Wet your washcloth in warm water again. Rub the washcloth over your face, paying special attention to areas around your nose and near the hairline, where oil and dirt tend to collect. Rinse the washcloth again in warm water and wash the soap off.
Turn the sink faucet to cold, and splash your face with the cold water. This helps close the pores. When you've rinsed all the soap off, gently pat your face dry with a towel.
Tip
If you experience any redness or itching after using a particular soap, it could be drying your skin out too much or you may be allergic to an ingredient. Switch to a more mild soap. Dermadoctor.com suggests avoiding scented soaps for washing the face. Consider using an antibacterial soap if you have acne-prone skin.
References