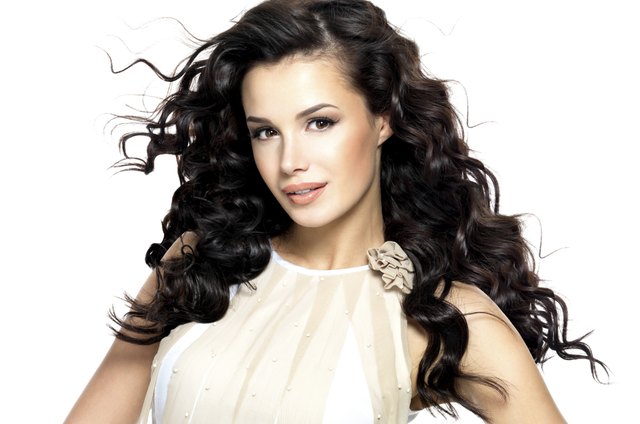 ValuaVitaly/iStock/Getty Images
Gorgeous, attention-grabbing hair requires va-va-voom volume and body. Velcro rollers are essential styling tools for boosting volume while keeping frizz to a minimum. Because Velcro rollers vary in size and shape, use big-sized rollers for loose waves and smaller rollers for tighter curls.
Boost Volume
Use Velcro rollers on dry hair. Mist hair with volumizing spray or apply mousse before you roll each piece.
Separate hair into sections and roll each section straight up until they rest securely against your head. Pin or secure with a clip if they start falling.
Blow dry hair on medium heat for about 5 minutes and then allow hair to cool.
Unroll the Velcro roller exactly as you rolled it. If you pull straight down your hair could get tangled in the roller.
Use a wide tooth comb to separate curls and arrange hair.
Create Curls
Dry hair thoroughly. Spray with spray gel, hair spray or mousse, and then curl hair with a large barrel curling iron.
After curling each section, roll it into a Velcro roller right up to the scalp and pin in place if needed.
Blow dry hair for at least 5 minutes.
Wait another 20 minutes and then unroll the curlers in the same way that you rolled them to avoid tangles.
Separate and style with a wide tooth comb, and add pomade or styling cream to the ends for more definition.
Control Frizz
Blow dry hair thoroughly and apply an anti-frizz cream or styling cream.
Iron hair with a flat iron in sections going from the base of the skull to your forehead.
Separate hair into sections and roll Velcro rollers to scalp. Spray the ends of each section with a good shine spray or anti-frizz spray.
Blow dry for about 5 minutes.
Leave rollers in for about 20 minutes and then carefully unroll in the same direction you rolled each curler. Use a fine tooth comb to keep frizz down.
Separate the sections with the comb and apply more styling cream or a texturizing cream to the ends for more definition, or spritz with a finishing spray.