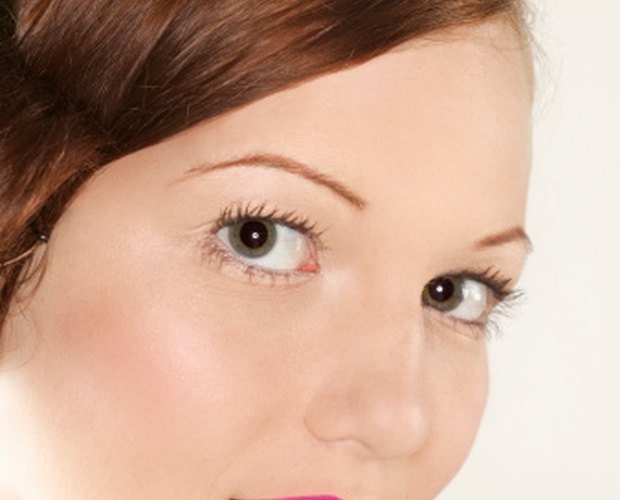 Thinkstock/Comstock/Getty Images
The Scientia Derma Roller is a beauty tool designed to help alleviate hair loss; signs of aging, including skin discoloration and wrinkles; and the appearance of cellulite and scars, including acne scars. The manufacturer recommends one of two modes of application of the Derma Roller -- one slightly more aggressive weekly treatment to the affected area following the application of a topical anesthetic gel, or lighter applications without anesthetic up to five times weekly. Using the Derma Roller on the nasolabial area should be approached with care, as this area of the face is more sensitive than others.
Make sure your work area is clean and, ideally, sterile. Use disinfectant to kill bacteria that may be lurking on work surfaces, and lay down clean paper towels to keep the area as clean as possible. Likewise, wash your hands and face thoroughly and dry them with a clean, fresh towel. Apply a thin layer of the topical anesthetic gel if you choose to use it, allowing it to numb the skin to be treated. Wipe off the excess with a paper towel.
Roll the Derma Roller over the area to be treated four times horizontally, and four times vertically. If you are using a topical anesthetic, you may want to press more firmly for more aggressive treatment of your skin. More frequent and gentler use of the Derma Roller will also achieve results with less skin irritation. If you have sensitive skin, do not press firmly. Do not use the Derma Roller directly on the lips. Take care to move it precisely and carefully in the nasolabial region to make sure it does not come directly in contact with your lips.
Wash the treated area with ice water after application, which will decrease pain and sensitivity. If you used a topical anesthetic, apply some antibacterial gel or wash with antibacterial face wash first, then apply moisturizer. Using the Derma Roller will ensure your skin will readily absorb the moisturizer. Use a moisturizer that contains vitamins A, C and E, and make sure it does not contain any fragrance to minimize irritation.
Rinse your Derma Roller under running hot water to clean it after use. If you used a topical anesthetic, rinse the Derma Roller head in disinfectant for a minimum of 30 minutes (but no longer than one hour) before rinsing it under running hot water. Leave the Derma Roller out to dry before storing; storing your device while wet will damage it.