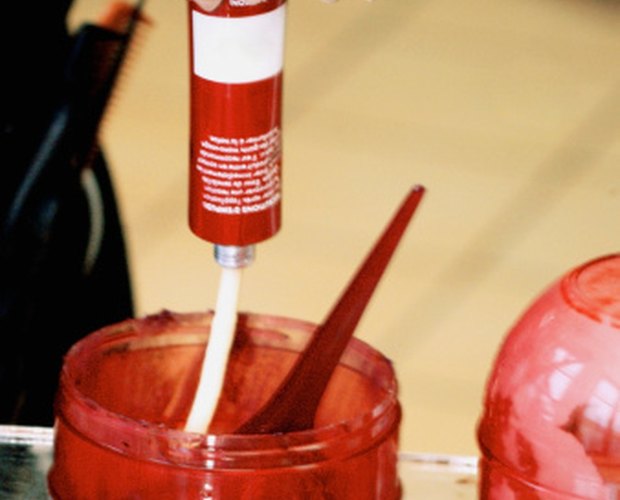 Medioimages/Photodisc/Photodisc/Getty Images
Henna, also known as lawsonia inermis, is a plant that is traditionally used to make dyes that can color the hair and skin. It is a natural product, meaning it does not contain any harmful chemicals. This makes it a popular choice for people with sensitive skin. It also has the added benefit of leaving your hair feeling soft and looking smooth and glossy. Henna hair dye is naturally reddish in color but can be mixed with other natural ingredients like indigo for a black tint or saffron for a blond tint. It is a permanent dye that can last between one to three months.
Choose a henna dye that is the same color as the hair on your head so your eyebrows tie in with your coloring. It will come come in a powder form.
Mix your henna powder with lemon juice until it is the texture of toothpaste. Use an old yogurt container and a plastic spoon to prevent staining to your crockery. Leave the mixture overnight to activate the dye. If you are only dying your eyebrows, 1 tbsp. of henna powder mixed with a few drops of lemon juice will suffice.
Wear latex gloves and put an old towel around your shoulders to prevent the henna dye from staining your hands or clothing.
Test the henna dye on a few strands of hair on your head where it will be the least noticeable. This is to check that they dye is the correct color and that it takes to your hair OK. The color the henna appears will depend on your own natural hair color.
Apply petroleum jelly to the area of skin around the eyebrows. This will prevent the henna from dying your skin in addition to your eyebrow hair.
Dip an eyebrow brush into the henna paste and gently brush the eyebrow with the color, starting from the inside, closet to your nose, and working your way outward in small strokes. Make sure the eyebrow hairs are thoroughly covered with the dye. Repeat the process on the other eyebrow.
Leave the color to take effect for 30 minutes. Gently dab away any excess henna dye using a cotton ball, and wipe the petroleum jelly off the surrounding area of skin using a fresh cotton ball.
Tip
Be sure you want to tint your eyebrows before you do it. Henna is a permanent dye, which means you won't be able to change the color of your eyebrows back to their natural color once the dye has taken.
Warning
Buy your henna from a trusted source, and check the ingredients before use. There are products on the market that claim to be all natural henna but in fact contain harmful chemicals that could damage your hair.