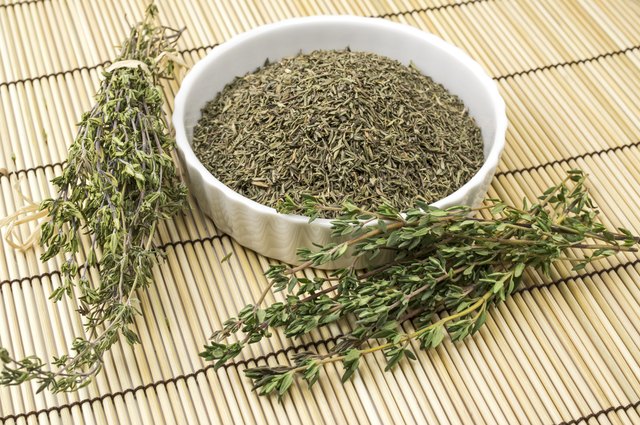 Birgit Brandlhuber/iStock/Getty Images
A traditional herb in Mediterranean cuisines, where it is often paired with lemon, thyme brings a pungent aroma to various dishes, including meat and fish. The herb is part of the extended mint family and can be used fresh or dried, although fresh has a more pure flavor. Because notes of mint, citrus and oregano are all evident, you still have plenty of substitutes if you don't have thyme on hand.
Herb Mixes
A complementary herb, thyme brings a minty warmth to onion, garlic and ginger flavors, notes Fine Cooking, but doesn't dominate a dish in the way other herbs, such as rosemary or oregano, do. Not surprisingly, this ability to showcase and balance other flavors makes it an essential feature of herbes de Provence, the Mediterranean dry herb mix that typically includes potent herbs from southern France, including marjoram and oregano. As a result, if a dish calls for thyme but you don't have any, herbes de Provence works as a catchall substitute.
Poultry Dishes
Thyme's hint of citrus means it works well in poultry and game dishes, particularly when used fresh. For slow-cooked dishes and stews, it is also one of the components of the bouquet garni, along with bay leaf and parsley, in its dry form. For lamb dishes, rosemary steps into the breach, ideally bolstered by plenty of garlic. For turkey, a dry herb rub with sage, rosemary and salt results in a crisp, aromatic skin. Like thyme, rosemary stands up to longer cooking times.
Citrus Notes
Mediterranean and Middle Eastern cooking make ample use of thyme, especially lemon thyme, for seafood dishes. A whole fish poached in a thyme broth, for example, infuses the flesh with a citrus, herby aroma. To recreate the same effect, BBC Good Food recommends lemongrass, complemented by basil, rosemary and sage, for a baked salmon dish finished off with caramelized lemon. For an herb-crusted fish bake, lemony basil, parsley and chives give a bright, clean finish to white fish.
Savory Attributes
Instead of boiling broccoli into an underwhelming, slightly sulfurous dish, Mediterranean cooking incorporates it into a bright, herbal salad, tossed in a thyme and mustard dressing. If you don't have thyme, substitute oregano, rosemary and basil, with chili flakes an option to add zip. Thyme also excels at adding depth to a bean cassoulet, and a few sprigs tossed into a stew lend a rustic appeal. Celebrity chef Jamie Oliver picks rosemary and sage for his sausage cassoulet instead. The rosemary sprig evokes farmhouse cooking while the sage brings a delicate, savory flavor.