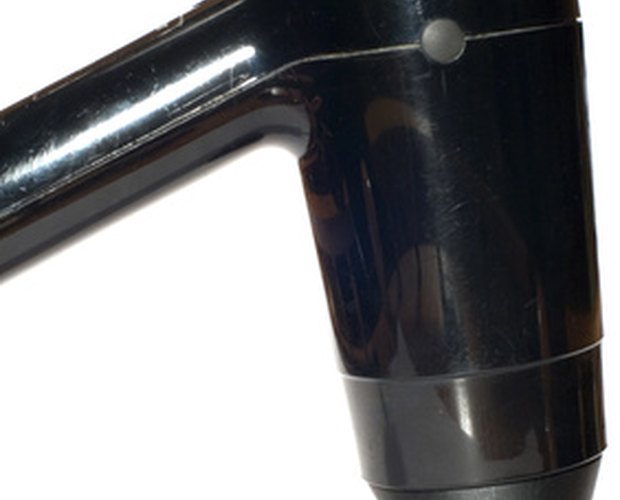 black hair drier image by Aleksandr Ugorenkov from Fotolia.com
Straightening black hair may not always prove quick or easy. Coarse hair is especially prone to damage or tangles when heat is used. To avoid a mess of burnt, tangled hair, you'll have to detangle the hair beforehand with a comb and flat iron the hair in small sections. Coarse hair requires a special flat iron with high heat settings to get hair acceptably straight.
With a few tips and pointers, you can get your hair smooth and straight no matter how coarse.
Detangle the hair before styling. Hair that lays flat straightens better than tangled hair. When detangling, use a wide-toothed comb and detangling agent. If you have stubborn knots, this will make the process less painful and help prevent too much breakage of the hair.
Blow-dry the hair in small sections before straightening. The key to getting truly coarse hair straight is to blow dry first in one-inch thick sections, to keep the cuticle dry and laying down. Blow-drying in small sections, with a round brush, from root to tip, will get the hair fairly straight, which means less work when it's time for the final stage of straightening. For hair that coils or is truly coarse, you may wish to invest in a 1500- or 1800-watt blow-dryer. The high wattage keeps unruly coils flat and prevents them from curling back up after the blow-drying process.
Apply heat-activated hair products to encourage the straight style. There are heat protectants and styling aids designed to help the hair straighten when heat is applied. A hair balm or spray works best for coarse hair types. Run the product from mid-shaft to ends to give the hair weight, which will pull down any curl still lingering.
Pass a high-heat flat iron slowly and smoothly through the hair. A slow, smooth pass of the iron prevents wrinkles in the hair and allows for even heat distribution. Flat iron section by section; your sections must be about one inch in thickness, no thicker. The smaller the section, the more straight the look will appear. Try not to move too quickly down one strand and too slowly down others; doing this may cause some areas to frizz and curl back up. The higher the heat gauge (410 degrees Fahrenheit), the smoother the hair will be for longer.
References