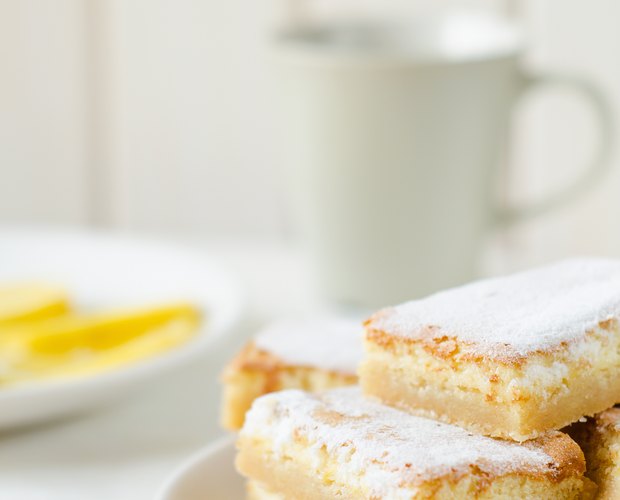 When you want to store your favorite lemon dessert, it can be a little tricker than one would think. The trick? Knowing how to handle the egg.
Lemon bars consist of lemon curd on a shortbread crust; shortbread freezes quickly, but the egg yolks in the curd take a little time because of their density. You have to give the bars some space on all sides so they freeze quickly and before you wrap them for long-term storage. For short-term storage, you only need to keep the pieces from sticking to each other and keep them cold.
Refrigerator
Allow the lemon bars to cool completely and cover the pan with plastic wrap — don't slice the the lemon bars yet.
Chill the bars in the refrigerator until firm, about 30 minutes. Slice the lemon bars after they firm up for clean, neat edges.
Place the lemon bars in an airtight container, using parchment or wax paper to keep the stacks separate. Store the bars two to three days in the refrigerator.
Freezer
Let the lemon bars reach room temperature and place them on a baking sheet.
Place the baking sheet in the freezer until the bars freeze all the way through, about two to three hours.
Wrap each lemon bar in plastic wrap and place them in a sealable freezer bag. Mark the date on the bag and use within one month for best quality.
References