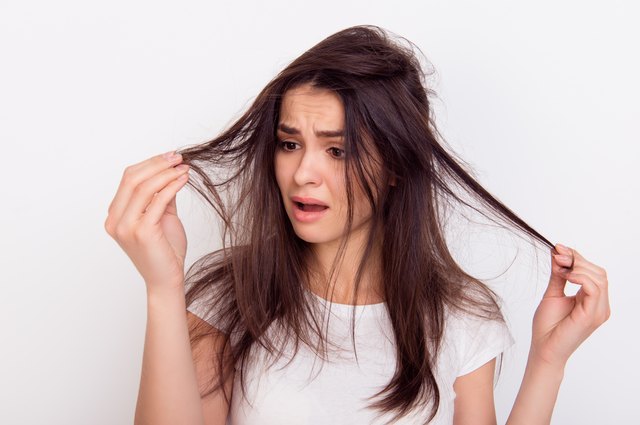 Deagreez/iStock/GettyImages
Split ends, dry, brittle hair—these hair issues affect us all, and can be difficult to manage. We still devote time and money to the ongoing hair care process by buying expensive products and using heat styling tools. All so we can attain the dream hair that's pinned on our Pinterest boards.
The good news is, hair breakage isn't something we have to live with forever. All it takes is living by these three hair care rules so you can repair hair breakage.
Reduce the use of heat styling tools
As much as we love our heat styling tools i.e., hair straighteners, curling irons, blow dryers, and the like, they result in hair breakage. We're not asking you to give up your at-home or salon blowouts forever (we know how important that is). Simply reduce your use of them or even turn the heat down, if possible.
Mark Goodman, a master hair care professional spoke to WebMD, saying that the 400°F heat setting is way too high for anyone but a professional hair stylist to use. Yet, plenty of women everyday—especially those in a rush—are relying on the highest heat setting to get the job done fast. It won't hurt to let your hair dry naturally just a few times a week.
You can double-up on products to counteract the effects of not using heat in your hair, such as creams that eliminate frizz, add volume and bouncy curls, and sprays that result in sleek and shiny straight hair.
Do regular treatments at home
You don't have to step foot in a salon to get hair treatments done—you can concoct a hair breakage treatment at home!
Use olive oil: Olive oil is not only great for cooking with, it's also useful for softening the hair and skin. To add moisture back into your hair, simply warm up 1/2 cup of olive oil and then rub it in your hair. Cover your hair in a plastic bag and then cover that with a towel. Let your hair sit like this for 45 minutes. To finish, shampoo and rinse everything out.


Use eggs: If you want to focus more on your split ends, where breakage happens the most, hence the term "split ends," then use eggs for a quick treatment. This works because the protein in eggs strengthen your strands and act as a moisturizer and conditioner.

You can use egg on its own or mix it with olive oil for an even stronger remedy. Mix egg yolk with 2 Tbsp of olive oil and then apply this mask to your ends. Keep it on for about 30 to 45 minutes before rinsing it out with warm water.
Always be gentle with your hair
Even though our hair isn't like Rapunzel's, where it has magical powers, it's still important to treat it like sacred locks. This means being as gentle as possible.
Start by trying to leave your hair down more often since those tight hair ties you love so much could actually cause hair breakage. Same if you choose to sleep with any accessories in your hair.
When you towel-dry your hair after a shower, be sure to let the hair air dry for a while in a cotton towel, to help absorb the moisture. Lastly, prevent hair breakage by getting your hair cut often, even if it's just a trim.
Hair care may be ongoing, but it doesn't have to feel like a chore with these helpful tips to stop hair breakage instantly.