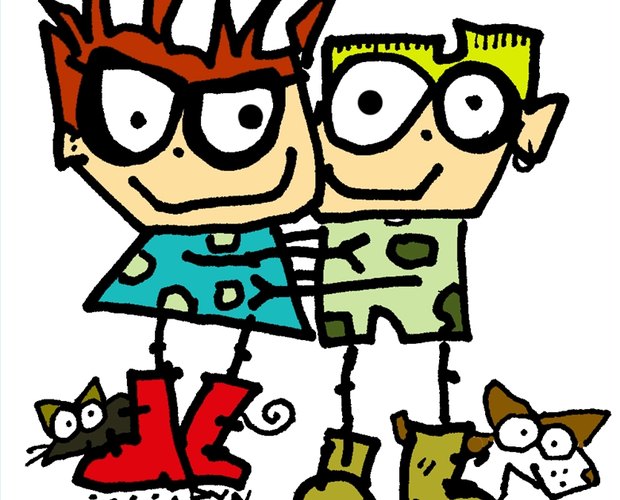 Illustration by Ryn Gargulinski
Spiked hair has been around since man invented hair gel. It's a funky way to show some style, personality and uniqueness without even saying a word. Short hair works best for this process.
Get a heavy duty hair spiking product. Many brands specifically manufacture a product called hair glue. Others call it spiking gel. In either case, the product is specifically designed to help keep spiked hair upright, defying gravity and perhaps even your parents. Check the hair products aisle at your local grocery, beauty supply or drug store or buy online.
Make sure your hair is clean and free of any debris. Also make sure hair is not coated with any other styling product that may interfere with creating the spikes, such as a curl-enhancing mousse or hair spray.
Dampen the hair and towel dry. This helps remove any dirt and oil that may weigh hair down. It also gives you a chance to start the spiking process with the towel. Wrap the towel tightly around your head to absorb excess water. Then blot around the hair. Keeping the towel between your hands, grasp the hair through the towel and pull the hair upwards.
Distribute a liberal amount of the styling product into your palm. Rub your two hands together so both palms are coated with the product.
Apply the product to the hair. Starting at the back of your head, run your hands through the hair with the palms along the scalp and the fingers fitting in between the hair strands. Pull upwards with your hands, keeping the hair between your fingers and tightening the fingers when you get to the tips of the strands. Repeat in all sections of the hair until the area you want spiked is spiked.
Blow dry for extra hold. Some products may recommend blow drying the hair to really solidify the product. If that is the case, flip your head upside down and blow dry from the roots to the tips, all the while pulling the spikes away from the scalp in between your fingers.
Tip
While you want to use a generous amount of the styling product, make sure not to go overboard. You want the hair spiked, not smashed together and standing up like a billboard. Keep strands separated as much as possible. Another way to help the spikes along is to twist a small section of hair, starting at the base, and applying the product as you pull the whole spike upward. Your spikes are going to be much thicker this way, but it will also create a whole different effect.
Warning
If hair is too long to be spiked, it will fall over in heavy clumps.