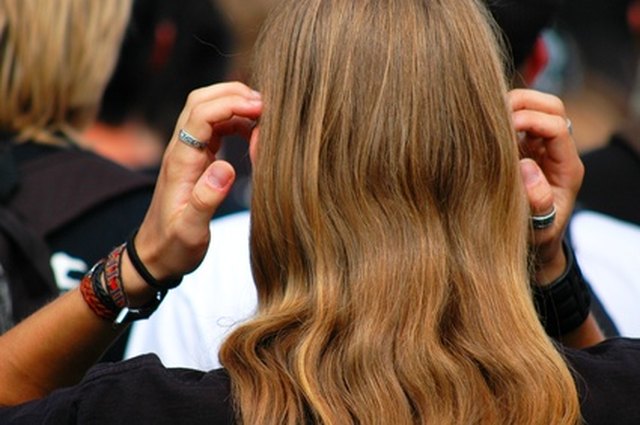 A keratin treatment infuses your hair with keratin, a protein found naturally in hair. Keratin infusion straightens the hair while giving it elasticity and strength, according to Charles Worthington, author of "The Complete Book of Hairstyling." Immediately after the keratin treatment, you should avoid getting your hair wet, as it can undo the treatment. If your hair becomes damaged by the treatment, washing your hair within four days can reduce the severity.
Wet your hair with warm water. Pour two to three thumbnail-sized dollops of clarifying shampoo into your palms, and gently massage the shampoo through your hair from roots to ends. The clarifying shampoo removes the keratin deposits without stripping your hair of its natural oils.
Thoroughly rinse your hair with warm water. Then pour two or three thumbnail-sized drops of moisturizing shampoo into your palms. Gently massage the shampoo through your hair. Don't pour the shampoo directly onto your hair, as this can cause tangles. A moisturizing shampoo minimizes the damage caused by the keratin hair treatment.
Rinse out the moisturizing shampoo and coat your hair with a deep conditioner. Allow the conditioner to work through your hair by leaving it on for at least 10 minutes. Then rinse it out of your hair with warm water.
Rinse again with cool water. This will seal the cuticles of the hair. Blot your hair with a clean towel and allow it to air dry to minimize damage.