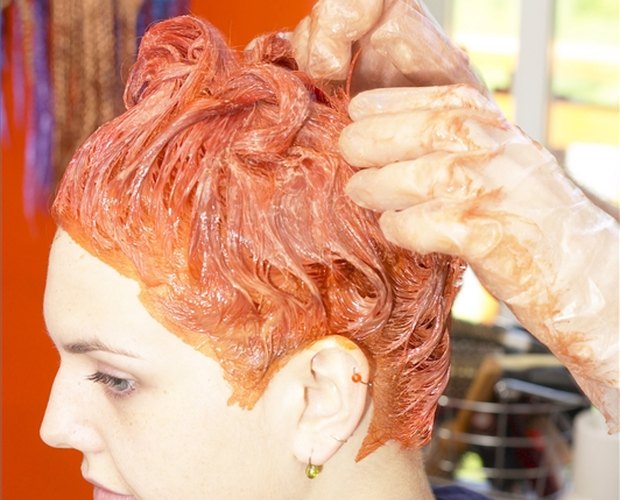 How to Remove Hair Dye From the Face. Coloring your hair at home is a messy, drippy process. If, despite good and careful intentions, you've managed to get dye on your forehead, neck and ears, take heart. Here are a few tips on how to remove those final traces of hair dye from the face.
Buy a hair color stain remover from your local beauty salon for the easiest and most effective solution. These products are especially helpful when dying tricky spots, like eyebrows, so consider buying a bottle at the same time you pick up your hair dye. Simply pour a little of the solution onto an old towel and rub gently onto the skin.
Use old-fashioned soap and water (along with a little elbow grease) for a safe alternative. Use a soft, old toothbrush or nail brush to gently scrub the area.
Rub a little body scrub or toothpaste (the kind with little cleaning crystals in it) to remove the dye. If these aren't available, make a small batch of your own scrub with a couple of tablespoons of ground oats or sugar mixed with a tiny bit of water. Gently scour the skin with the thickened mixture.
Apply a bit of nail polish remover to a cotton ball and try to wipe away dye stains. Use this method as a last resort, however; nail polish remover isn't intended for large areas of the skin and may cause some irritation.
Tip
Visit a salon and talk to a professional colorist if you're battling a particularly difficult stain. He will know how to safely remove it without damaging your hair or skin.
Warning
Avoid using bleach, hydrogen peroxide and household cleaners. In addition to being extremely unsafe, these products also have the potential to damage your new hair color. Avoid getting dye on your skin in the first place. Wear gloves, follow mixing instructions, apply petroleum jelly to the skin surrounding your hairline, use a shower cap and rinse your hair in the tub (not the shower) to minimize skin contact with the dye.