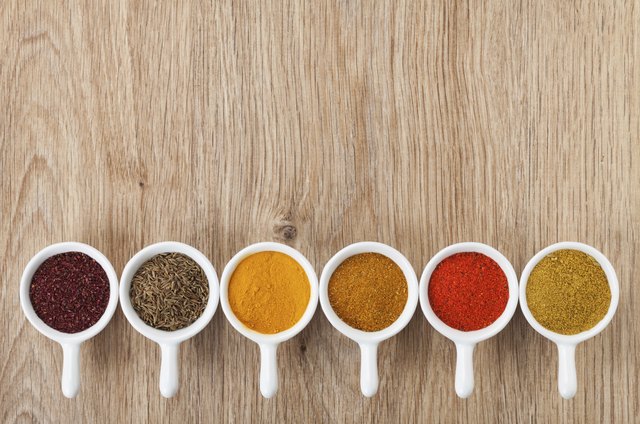 karandaev/iStock/Getty Images
Buying cosmetics on a routine basis can strain your budget big time, not to mention your skin-- many store bought makeup products contain harmful dyes, preservatives and toxins. According to an article published in The Telegraph, on average women put over 500 chemicals on their skin daily as a result of beauty products. And although there are many options for clean skincare products, they aren't cheap. Using a few common ingredients you may already have on hand, it's possible to keep both your skin and bank account healthy by making your own cosmetics at home. Also, try this DIY natural makeup remover for chemical-free cleansing.
Feather-Light Foundation
Tiny mica particles found in loose-powder mineral foundations may smooth out your skin, but they can also be harmful when inhaled. To make a homemade light and natural foundation use arrowroot powder and cocoa powder. Use the arrowroot powder as your base, then slowly sprinkle in the cocoa powder until you reach a color that matches your skin tone. Keep the powder in an air-tight container or compact, and use a kabuki brush for application.
Naturally Beautiful Blush
According to the U.S. Toxicology Panel, conventional powdered blushes are mainly made of carcinogenic talc, which can also contain asbestos if contaminated. For a rosy complexion sans toxins, make your own blush with arrowroot powder or corn starch as a base. Mix in a red or pink plant-based powder, such as beet root powder or hibiscus powder until you get your desired color. For a dramatic nighttime look, simply add a small amount of cocoa powder or cinnamon to the mixture to deepen the color and store in an air-tight container for future use.
Eye-Friendly Eye Shadow
Eyes are one of the most sensitive parts of your body, yet traditional eye shadows can contain allergens and toxic chemical dyes that are best kept away from your eyes. To make chemical-free eye shadow of all shades (greens, yellows, browns, pinks etc.) use ingredients from your spice rack. In a small jar, mix equal parts arrowroot powder and shea butter to form a base, then add any colorful spice or powder you can find-- such as cocoa powder, Spirulina, turmeric, allspice, beet root powder or nutmeg. Keep shadows in air-tight containers for later use.
Luscious Lip Gloss
A study conducted by the University of California, Berkeley tested 32 brands of mainstream lipsticks and glosses for chemical and metal content. The results revealed that 75 % of those tested contained toxic lead. Make your own natural, metal-free lip gloss with stove-melted beeswax. After removing the melted wax from the heat, add an equal amount of castor oil, then slowly add jojoba, sesame or coconut oil to the mixture until it reaches a consistency you like. Drop in some fresh juice from crushed cranberries until you achieve the desired color. Allow the gloss to cool at room temperature and store in a covered jar.
For a lip gloss blush combo, check out this easy 3-step beetroot cheek and lip stain recipe.