If eyes are the windows to the soul, false eyelashes are those elaborate multilayer window treatments that are featured in design magazines. They look great, but they're a huge pain to put on and maintain. Get that false-lashes look without all the effort and frustration that putting on falsies requires. Eyeliner, a lash curler and the right mascara is all that's necessary to get longer, thicker, bolder lashes.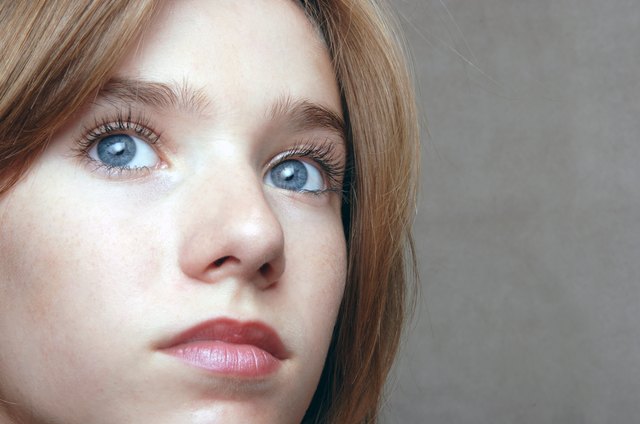 Line Up the Eyeliner
False eyelashes add definition at the upper lash line, making the eyes pop. Mimic that look with a thin dash of waterproof black eyeliner. Use a pencil with a freshly sharpened point. Using liquid liner works too, but has a higher degree of difficulty for anyone who's not very experienced applying makeup. The key is to get the color right on the upper line of the eye, not above the lashes. Working in front of a magnified makeup mirror, use one hand to gently lift the upper lid. Make small dashes between the eyelashes with the liner.
Clamp and Curl
Master your eyeshade and liner before beginning on the lashes themselves. Using an eyelash curler is crucial for getting magazine-quality eyelashes. It might seem daunting – or like a waste of time – to clamp something metal onto your lashes, but using a curler is actually very simple and effective. Curling the lashes before applying mascara pushes them up, making them more noticeable. Clamp a clean curler around the base of the lashes, hold for 10 seconds and release. Move the curler up the lashes a bit and repeat.
Tweak Your Mascara Technique
Simply swiping on a coat of mascara won't make the typical woman's lashes look like falsies. After curling the lashes, apply a coat of mascara primer. Buy a two-sided mascara with a built-in primer wand, or pick up a tube of primer at the drugstore. Next, apply black mascara. Don't use waterproof mascara unless you expect to cry or get caught in the rain. It includes drying agents, and applying multiple coats may cause the mascara to clump or flake in a way that regular mascara shouldn't.
Holding the wand vertically, place the brush at the base of the lashes and wiggle it gently back and forth. Move the wand across the lashes slightly and repeat. Once the base of the lashes is well-coated, hold the wand horizontally and swipe mascara onto the tips of the lashes. Let the color dry for 30 seconds or so and repeat with a second coat.
Use a Lasting Treatment
If lashes are stubby or sparse, no amount of mascara will truly make them look like falsies. Using a lash-boosting serum or booking a salon treatment is a better option for getting fuller, thicker lashes. An esthetician can do a keratin lift treatment to lengthen and curl the lashes, with results generally lasting a few months. If you opt for the serum route, keep in mind that options range from $10 drugstore formulas to prescription-strength products that cost $100 or more per month. Proceed with caution: some serums are more effective than others at stimulating lash growth, and they may cause irritation or eye problems. Lashes will revert to their natural state when you stop using the treatments.