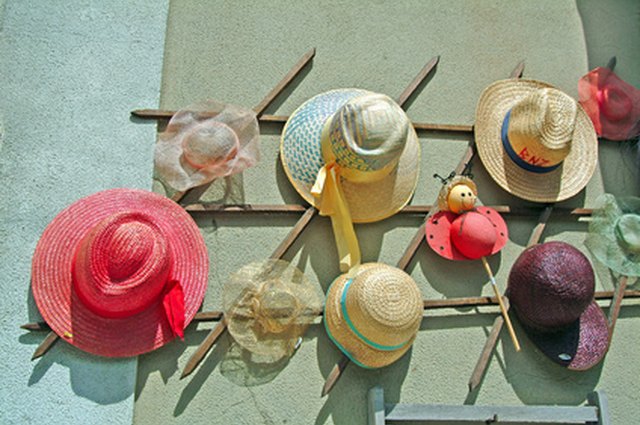 Women's church hats are often a bit outrageous. Make your own church hat by adding feathers and other embellishments to a plain or colored straw hat. Wide-brimmed gardening hats, in particular, make a good base for a flamboyant church accessory. If you do not have a hat on hand, visit a thrift or dollar store for a good deal. This is a fun craft to share with friends or fellow church members.
Arrange your craft supplies on a flat workspace. Lay down newspaper to protect the workspace from the glue.
Place your hat in front of you with the back facing you.
Center the silk ribbon over the crown of the hat, near the base. Lay the ribbon down and pick up the glue gun.
Dot a dab of glue on the hatband on the front of the hat. Replace the ribbon and smooth it into position.
Add a dot of glue to each side of the hat, pressing the ribbon into place. Cross the ribbon over in the back and attach it to the hat with glue.
Let the ribbon dangle down about a foot over the edge of the hat's brim. Cut a "V" shape into each end.
Position the marabou feathers on the left side of the hat. The feather plumes should face up and slightly back. Glue the quills into place.
Remove the largest rose bloom from the bunch. Position the rose bloom over the area near the feather quills to cover them. Glue the rose into place by dabbing glue on the back of the rose and pressing it onto the hat.
Remove two or three rose buds from the bunch and glue them in place around the large bloom.
Tip
If you have one, use a hat stand to hold your hat while you work.
References