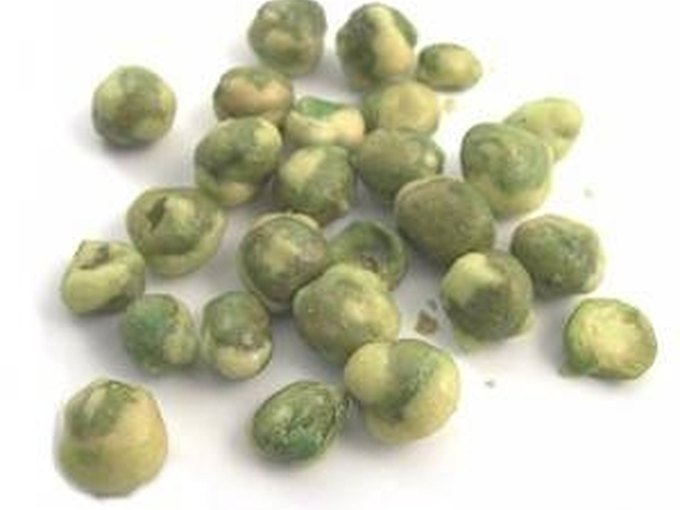 http://www.yummydietfood.com
If you are a snack food junkie with a desire to cut your habit back, try wasabi peas. Flavorful and crunchy, they are perfect for hand snacking, but there is a catch---it is almost impossible to overeat them! They are so spicy that you will likely drink lots of water while nibbling them, and therefore you are not likely to eat more than a few of them at any given time. Although commercially prepared wasabi peas are available, they can be pricey. You can easily make them yourself very inexpensively, plus you can adjust the amount of wasabi according to your level of heat tolerance.
Cover the dried whole green peas with 2 inches of water and soak them for at least 12 hours, preferably overnight. Cook them according to the packaging instructions. Drain well and let them air dry in a colander.
Preheat the oven to 200 F. Drizzle 2 tablespoons olive oil over the peas, and toss them to coat well.
Grease a cookie sheet thoroughly, and spread the peas in a single layer. Bake for about 5 hours, or until the peas look dry and they are crispy when you bite into them.
Combine 2 tablespoons rice vinegar and 2 teaspoons Dijon mustard in a large mixing bowl. Blend well. Whisk in 2 tablespoons tahini and 4 teaspoons wasabi powder. Stir until the mixture is smooth. Stir in the cooked green peas and coat them well with the wasabi mixture.
Increase the oven temperature to 250 F. Lightly grease a cookie sheet, and spread the peas in a single layer. Bake until the wasabi coating is dry, about 10 to 15 minutes. Remove the pan from the oven, and cool it on a wire rack.
Store the wasabi peas in an airtight container or sealed plastic bag for up to 3 days. Recrisp them for eating after they have been stored by spreading them on a cookie sheet and baking at 250 F for about 10 minutes.