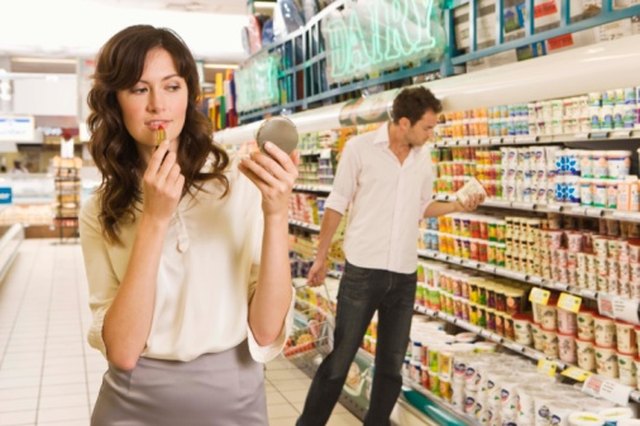 Jupiterimages/Polka Dot/Getty Images
L'Oreal True Match foundation makes it easy to match your makeup to your skin tone. With 24 shades of foundation, you can match the makeup to your skin tone and undertones. L'Oreal True Match can be purchased online or at most retail department stores. Some online retail makeup sellers offer free shipping with minimum purchase amounts. The store displays are conveniently set up to make your product selection simple. L'Oreal True Match concealer is available to match your foundation shade.
Determine the tone of your skin. Tones are defined as fair, fair light, light, light medium, medium, medium deep or deep. Use the color on your jaw to determine skin tone. The skin on your cheeks tends to have more pigment, making the skin there darker.
Find the undertone of your skin. Undertones are defined as warm, cool or neutral. If you look better wearing brown, dark green or orange, your undertone is warm. If you look better wearing pink, rose or pastel colors, your skin's undertone is cool. If you get compliments in many different colors, you have a neutral skin tone.
Select your L'Oreal True Match shade of foundation according to your skin tone and undertone. Product displays are organized according to tones and undertone colors. L'Oreal displays usually have the lighter shades on top, getting darker as they descend. Warm shades, cool shades and neutral shades are separated on the display racks.
Tip
Skin tones can change, getting lighter in the winter and darker during the summer. You may need to switch colors when the seasons change.
When you select your foundation color from the display, double check to make sure the correct product is on the correct shelf. People sometimes switch them when they are shopping.
Online consumer product reviews for L'Oreal True Match allow you to see what other users have to say before you make your purchase.
Warning
Any makeup can cause allergic reactions in some people. Always test a small area of your skin for allergic reactions before using the product on your entire face.
References